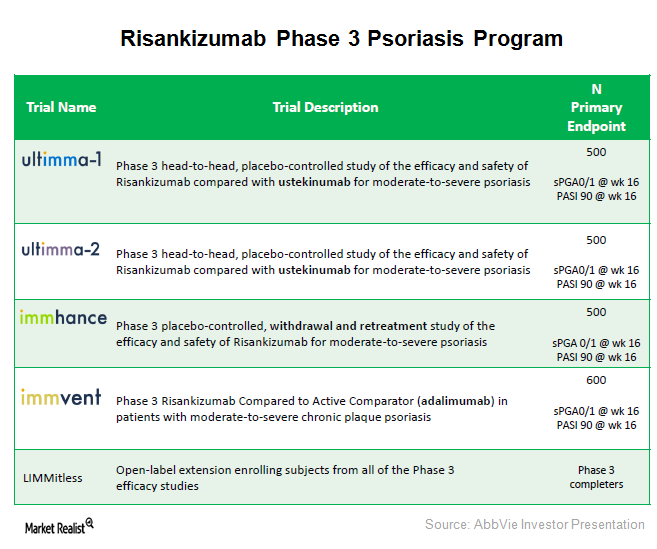 AbbVie Plans to Launch Psoriasis Therapy Risankizumab in 2019
Growth prospects for risankizumab
AbbVie (ABBV) has completed enrollment in its Phase 3 pivotal trials testing investigational therapy drug risankizumab as a treatment option for psoriasis. The company anticipates data from three of these trials to be released in 2017.
AbbVie expects to launch risankizumab as a psoriasis therapy by 2019. To know more about these research programs, please refer to How AbbVie Expects Risankizumab to Be a Transformative Therapy.
The above chart describes the four Phase 3 trials—UltiMMa-1, UltiMMa-2, iMMhance, and IMMvent—that are exploring risankizumab as a therapy for psoriasis. They involve about 2,000 patients.
Two of the trials—UltiMMa-1 and UltiMMa-2—are head-to-head studies that will compare the efficacy and safety of risankizumab with Johnson & Johnson's (JNJ) Stelara, through its subsidiary Janssen Biotech.
IMMhance will study how withdrawal and retreatment with risankizumab will affect patients suffering with moderate-to-severe psoriasis. Finally, IMMvent will compare risankizumab with Humira for patients suffering with moderate-to-severe plaque psoriasis.
If these trials prove successful, risankizumab will help AbbVie pose strong competition to other immunology players such as Novartis (NVS) and Eli Lilly (LLY).
Article continues below advertisement
Article continues below advertisement
Other indications
While risankizumab is currently being explored for psoriasis, it has the potential to become an effective therapy for multiple immune-mediated conditions. AbbVie plans to enroll subjects for registration programs of risankizumab as a therapy for Crohn's disease by the first half of 2017.
The company also anticipates beginning registration for clinical trials of risankizumab as a treatment option for ulcerative colitis and psoriatic arthritis by 4Q17.
If risankizumab gets regulatory approval for most of these indications, it could boost AbbVie's share price as well as those of the SPDR S&P Dividend ETF (SDY). AbbVie makes up about 1.4% of SDY's total portfolio holdings.
In the next part, let's take a close look at AbbVie's neuroscience research pipeline.