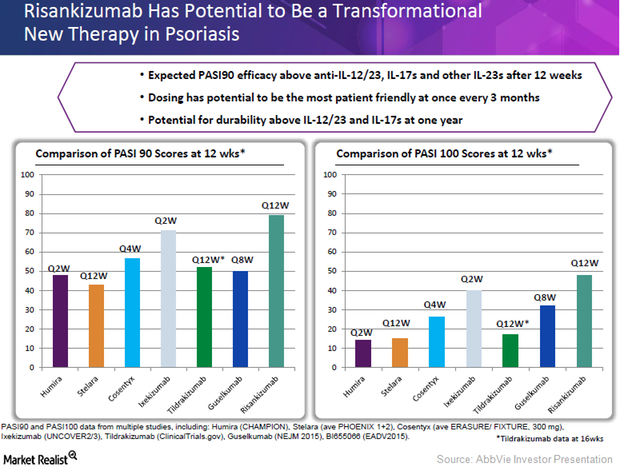 How AbbVie Expects Risankizumab to Be a Transformative Therapy
Risankizumab's prospects
AbbVie (ABBV) expects its investigational drug Risankizumab, which was licensed from Boehringer Ingelheim this year and is currently being tested in Phase 3 clinical trials, to be a transformative therapy for psoriasis.
The drug has also demonstrated positive results as a therapy for Crohn's disease in Phase 2 clinical trials, and AbbVie plans to further test the drug for the treatment of ulcerative colitis. In addition to its high efficacy, Risankizumab boasts high convenience of use.
Article continues below advertisement
Psoriasis Phase 2 results
The left panel in the chart above shows that based on Phase 2 clinical trial results, compared to peers such as Humira, Johnson & Johnson's (JNJ) Stelara and Guselkumab (both through its subsidiary Janssen Biotech), Novartis's (NVS) Cosentyx, and Eli Lilly's (LLY) Ixekizumab, Risankizumab has managed to demonstrate a 90% response rate in a greater percentage of psoriasis patients after 12 weeks of therapy.
According to the right panel in the chart, Risankizumab also managed to demonstrate total skin clearance—or a 100% response rate—in around 50% of tested patients.
Risankizumab is being tested as a dose delivered once every 12 weeks, and it's much more convenient to use than its closest competitor, Ixekizumab, in terms of ease of dosage. The latter is administered once a week.
If Risankizumab manages to secure regulatory approvals, AbbVie's share price could rise, as could the price of the Health Care Select Sector SPDR ETF (XLV). AbbVie makes up about 3.8% of XLV's total portfolio holdings.
Crohn's disease
Risankizumab has managed to demonstrate at least as much efficacy as displayed by other investigational and existing drugs for the treatment of Crohn's disease. About 20% of patients tested in the drug's Phase 2 trial also managed to display endoscopic remission after 12 treatments. This has further increased AbbVie's confidence in the efficacy of the drug, which is expected to enter Phase 3 trials in late 2016 or early 2017.
In the next article, we'll explore AbbVie's research programs for the investigational immunology drug ABT-494.