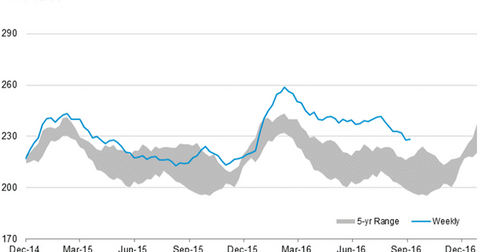 US Gasoline Inventories Pressured Gasoline and Crude Oil Prices
By Gordon Kristopher

Updated
US gasoline inventories  
The EIA (U.S. Energy Information Administration) reported that US gasoline inventories rose by 600,000 barrels to 228.4 MMbbls (million barrels) from September 2–9, 2016.
A Reuters survey estimated that US gasoline inventories would rise by 340,000 barrels for the same period. The larger-than-expected rise in US gasoline inventories pressured gasoline and crude oil prices on September 14, 2016. For more on crude oil and gasoline prices, please read Part 1 and Part 6 in this series. US gasoline inventories rose for the first time in six weeks.
Article continues below advertisement
Gasoline production, imports, and demand  
US gasoline production fell by 273,000 bpd (barrels per day) to 9,900,000 bpd from September 2–9, 2016. However, production rose 8% year-over-year.
US gasoline imports rose by 43,000 bpd to 650,000 bpd for the same period.
Gasoline demand fell by 189,000 bpd to 9,406,000 bpd for the same period.
Impact of gasoline inventories 
For the week ending September 9, 2016, US gasoline inventories were 5% more than the same period in 2015. They're also higher than the upper range for the last five years.
Citigroup estimates that global gasoline inventories stand at 500 MMbbls. High crude oil and gasoline inventories could pressure crude oil and gasoline prices. To learn more, read How Lower Refinery Margins Impact Crude Oil Prices.
Lower gasoline and crude oil prices have a negative impact on oil producers and refiners' profitability such as Tesoro (TSO), Swift Energy (SFY), W&T Offshore (WTI), Contango Oil & Gas (MCF), Valero Energy (VLO), Northern Tier Energy (NTI), and Northern Oil & Gas (NOG).
They also impact funds such as the United States Gasoline Fund (UGA), the PowerShares DWA Energy Momentum (PXI), the Fidelity MSCI Energy (FENY), and the VelocityShares 3x Long Crude Oil ETN (UWTI).
In the next part of this series, we'll take a look at US diesel fuel prices.