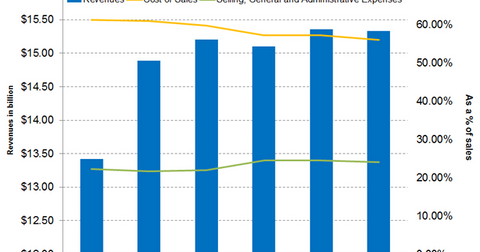 How PPG Industries Manages Its Costs and SGA Expenses
By Peter Neil

Updated
Analyzing PPG Industries' cost of sales
PPG Industries' (PPG) cost of sales includes raw material costs and energy costs. The major raw materials in the coatings segment are epoxy, resins, titanium dioxide, other pigments, solvents, sand, and soda ash. Raw materials for the glass segment include sand, clay, and soda ash. Energy is a significant production cost in the glass segment.
In 2010, the cost of sales represented 61.2% of PPG's total revenue. In subsequent years, it declined further, and in 2015, the cost of sales represented ~56% of PPG's total revenue. However, in absolute terms, the cost of sales grew at a CAGR (compound annual growth rate) of 0.9%. Revenues grew at a CAGR of 2.7% from 2010 to 2015. It's worth noting that the cost of sales is exclusive of depreciation and amortization.
Article continues below advertisement
How did PPG manage to reduce the cost of sales?
PPG Industries managed to reduce its cost of sales as a percentage of sales due to the following:
lower manufacturing cost
foreign currency translation
initiatives to broaden the suppliers of raw materials
reduction in the use of titanium dioxide, a major raw material widely used in paints and coatings
Selling, general, and administrative expenses
Another important component influencing PPG's margin is SG&A (selling, general, and administrative) expenses. In the past five years, PPG Industries' SG&A expenses have grown at a CAGR of 4.3%, while its sales grew at a CAGR of 2.7%. In 2010, SG&A expenses accounted for 22.2% of the total revenue. Until 2014, SG&A expenses increased to 24.5% of PPG's sales, mainly due to acquired business that had higher distribution costs. However, in 2015, PPG managed to bring down SG&A expenses to 24% of the sales due to favorable foreign currency translations. In 2015, expenses for PPG's peers were as follows:
Sherwin-Williams (SHW): 34.5%
Valspar (VAL): 18.4%
RPM International (RPM): 31.6% for fiscal 2016, which runs from June to May
As of August 26, 2016, Vanguard Dividend Appreciation ETF (VIG) held 0.7% of its total holdings in PPG Industries. In the next part, we'll analyze PPG's operating profit margin.