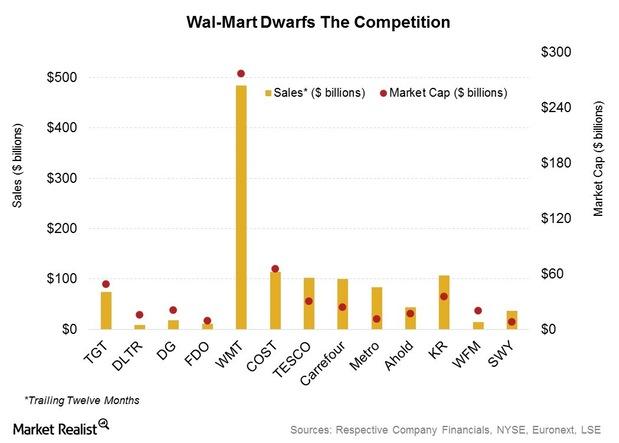 Managing Walmart's Supply Chain – Cross-Docking and Other Tools
Walmart's supply chain and distribution model
Walmart (WMT) has one of the largest supply chains in the world. The company owned inventories worth over $51 billion as of 3Q15. So, how does the company juggle millions of products in over 11,100 stores in 27 countries?
Article continues below advertisement
Cross-docking
Cross-docking is an inventory management system. The retailer (XRT) made it popular. Through cross-docking, inbound shipments are unloaded directly into outbound trailers at distribution centers. Cross-docking can lower the time required to transport merchandise. Also, it lowers the inefficiencies in the system. It saves the retailer billions in storage costs.
It gives the retailer leeway to implement its everyday low price, or EDLP, strategy. The EDLP strategy is important to gain trust among customers. This philosophy emphasizes the retailer's commitment to offer low prices to the customer every day. This ensures that buyers don't stay away in the hope of frequent promotional activity.
Lowering supply chain costs also helps in the economics of implementing programs—like the Savings Catcher, Save Even More, Ad Match, and rollbacks. Read more on Walmart's competitive price programs in Part 20 in this series.
Economies of scale
In the last 12 months, Walmart earned over $483 billion in revenue. That's more than the following four companies combined—Costco (COST), Kroger (KR), Tesco (TSCDY) (TSCO.L) in the United Kingdom, and Carrefour SA (CA.PA) (CRRFY) in France.
Walmart spent over $358 billion to purchase merchandise for its stores in fiscal year 2014. That kind of scale gives the company immense bargaining power with its suppliers. At the same time, it's a huge task to juggle the large number of suppliers from across the world.
Article continues below advertisement
Distribution
Walmart uses a combination of owned and leased facilities and fulfillment centers to distribute its products. In the US, about 80% of Walmart's products were shipped from these facilities in fiscal year 2014. Suppliers transported the rest of the products directly to the stores.
Fulfilling the e-commerce promise
Lately, Walmart has also been using its network of supercenters and other retail stores to double as fulfillment centers for e-commerce sales. This is an especially important element of Walmart's supply chain—if the retailer wants to stay relevant in the fast-paced world of e-commerce.
Amazon (AMZN), Walmart's nemesis in online sales stakes, is quickly expanding its network of fulfillment centers. Walmart's existing store network gives it a natural advantage over Amazon. As a result, Amazon is being forced to invest more in distribution. For more on Walmart and Amazon's exciting rivalry in e-commerce, read Parts 17–19 in this series.
Walmart's stores are also being used to offer the click-and-collect facility to customers. Customers can order online and collect their purchases at selected outlets. The service is being tested for groceries. It's only available at about five locations in the US. However, it's being used more extensively in countries like the United Kingdom.