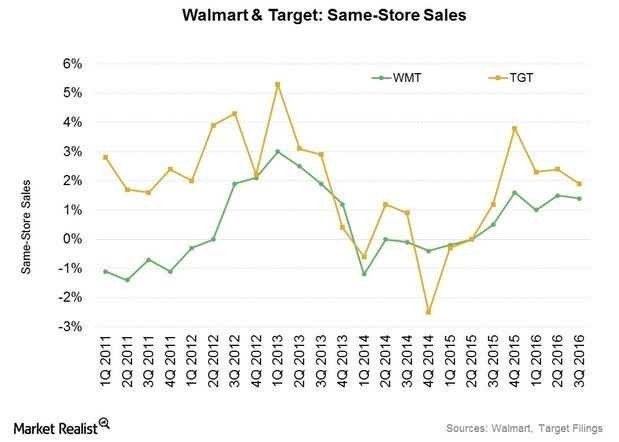 Why Walmart and Target Saw Same-Store Sales Growth in 3Q16
Walmart's same-store sales continue to trend positive
As we saw in the last article, Walmart's (WMT) performance in the Walmart US segment continued to see traction. Same-store sales growth came in at 1.5% in fiscal 3Q16 for Walmart US compared to 0.4% in 3Q15. Comps (comparables) were boosted by higher traffic, up 1.7%.
Article continues below advertisement
Positives in all formats
Comps growth for Walmart US was spurred by positive trends in grocery, health and wellness, apparel, and home merchandising categories. Although positive comps were recorded in all store formats, smaller sized Neighborhood Market stores performed better than average, with same-store sales rising 8%.
Store comps also benefited from sales of seasonal goods, particularly from higher back-to-school and Halloween shopping, as well as sales of Star Wars and Pioneer Woman merchandise.[1. according to Greg Foran, president and CEO of Walmart]
Sam's Club
Comps growth for Sam's Club came in at 0.4% in fiscal 3Q16 excluding fuel. It was unchanged from 3Q15. As we saw in the last article, store traffic declined and partly counteracted the positive trends in average ticket size, which was up 0.7%. Sam's Club has lately been in transformation mode, rolling out changes in product assortment and shopper-friendly e-commerce options, and trying to target Millennials and more affluent customers.
In contrast, Costco (COST) reported US comps of 6% in the 16 weeks ended August 30, 2015, excluding fuel.
Target's performance
Target's (TGT) same-store sales grew 1.9% in fiscal 3Q16, driven by both higher traffic and transaction size. The company also attributed its positive sales numbers to the success seen in signature categories such as Baby, Kids, Style, and Wellness, which saw comps rise over 2.5x the company's overall rate. According to Brian Cornell, chairman and CEO (chief executive officer) of Target, the company gained the number-one spot in Star Wars merchandise when it was launched in September.
Organic offerings and health and wellness continue to be a focus for Walmart and competitors Target (TGT) and Costco (COST).
Walmart makes up 0.50% of the portfolio holdings of the iShares Core S&P 500 ETF (IVV) and 4% of the holdings of the Vanguard Consumer Staples ETF (VDC).