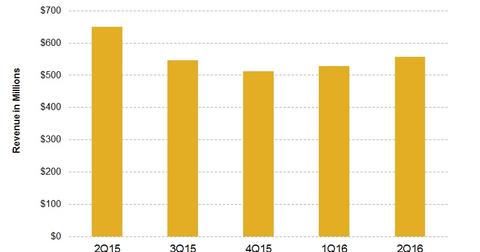 Where Seadrill Sees Its Earnings for 3Q and the Rest of 2016
By Sue Goodridge

Updated
Seadrill's earnings
In 2Q16, Seadrill's (SDRL) EBITDA (earnings before interest, tax, depreciation, and amortization) rose to $557 million. That compares to $528 million in the previous quarter. But compared to a year ago, EBITDA declined from $651 million recorded in 2Q15. EBITDA was higher than the company's guidance of $510 million for 2Q16. Generally, the company has posted higher EBITDA than its guidance.
Article continues below advertisement
What impacted Seadrill's EBITDA?
Seadrill's change in EBITDA from the previous quarter had many positive and negative catalysts. However, the positive catalysts outweighed the negative catalysts in the following ways:
volume – This was a positive catalyst since the quarter benefited by full quarter operations of West Phoenix and the start of operations on West Eclipse and Seven Driller.
day rates – The day rate on West Tellus was reduced.
utilization – This was a positive catalyst since the company improved up time, reaching 98% utilization.
costs – A notable improvement was seen on the cost side. The company reduced its costs by improved opex (operational expenditure) and lower stacking costs.
You can read more about Seadrill's costs in the previous part of this series.
EBITDA guidance for 3Q16 and 2016
With many contracts rolling off in the third quarter and the impact of lower day rates, Seadrill expects a huge fall in its 3Q15 EBITDA. EBITDA is expected to be $177 million lower, a fall of 32%, to $380 million.
The company's lower EBITDA guidance is based on eight rigs—West Orion, West Alpha, West Hercules, Seven Driller, West Phoenix, West Pegasus, West Prospero, and West Castor—coming off contract in the third quarter. The company will also have a lower day rate on another three rigs—West Freedom, West Ariel, and West Cressida. These factors will be partially offset by the start of operations and higher utilization on two rigs.
For 2016 the company expects its EBITDA to be ~$1.8 billion. In the first half of 2016, it posted EBITDA of $1.1 billion.