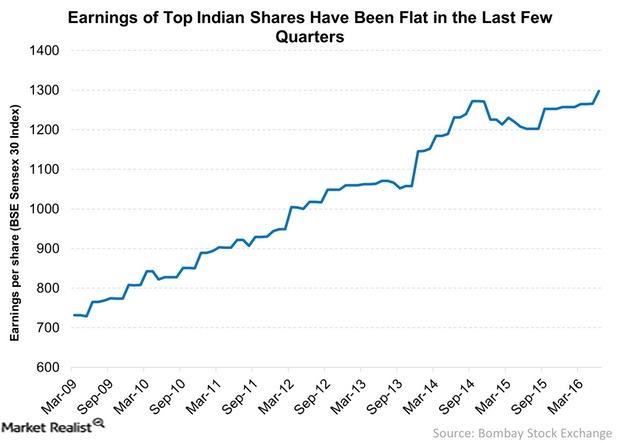 Can Indian Corporate Earnings Take a Turn for the Best?
Perhaps most importantly from an investor's perspective, we're seeing encouraging signs from companies' revenues and earnings. After quarters of negative adjustments, corporate revenues are showing the first signs of improvement, according to Morgan Stanley. With earnings, we expect a recovery to start gathering momentum over the year as corporations benefit from fiscal spending, margin expansion and tailwinds to consumption.
Article continues below advertisement
Article continues below advertisement
Market Realist – Are Indian corporate earnings likely to turn around?
The graph above shows the trailing 12-month earnings per share of the BSE Sensex Index (PIN) (EPI) (INDA). Earnings have been flat since late 2014. Despite that, earnings have grown at a compounded annual growth rate of 8.2% since March 2009.
Earnings growth is expected to recover to low double digits this fiscal year, according to CLSA, and move up sharply thereafter. That would bring an end to the earnings downgrades cycle that began in 2012.
Earnings are likely to get a boost from the ongoing recovery in urban consumption, led by a steep 24% wage hike for government employees. This could be a boost for consumer stocks as government employees begin to spend more. Cheap oil prices are another tailwind for households.
The strength of the US dollar (UUP) is a tailwind for Indian technology companies with a large exposure to the United States. These include Infosys (INFY), Wipro (WIT), and others. The dollar strength is likely to persist since the RBI (Reserve Bank of India) is likely to cut rates rather than hike them, and the Fed is likely to guide rates the other way.
In the next part of the series, we'll take a look at some factors that are working against the Indian economy.