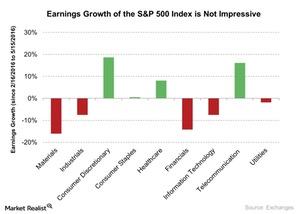 Jeffrey Gundlach Explains Why the Market Isn't Incredibly Healthy
By Sarah Sands

Jun. 23 2016, Updated 8:46 a.m. ET
Jeffrey Gundlach's view on the market's health
In a telephone interview, Jeffrey Gundlach said that "The market is not incredibly healthy." He focused on the corporate earnings of the S&P 500 index (SPY). He said that corporate earnings aren't impressive. The earnings remained weak.
Article continues below advertisement
SPY's earnings figure
SPY is the mirror of US financial markets. As a result, the earnings and sales growth of its constituents are key to gauging the market's stability. SPY's overall earnings growth shows that there was an 8.1% fall in 1Q16. It's close to FactSet's estimation of an 8.5% fall. As of June 3, 2016, 495 of the 499 constituent stocks of the S&P 500 (SPXL) declared their quarterly results.
Except the consumer discretionary (XLY), healthcare (XLV), and telecommunication (IYZ) sectors, all of the other sectors provided weak earnings growth. The sales growth of SPY's various sectors also remained weak for the first quarter. This is Gundlach's main point that "the market is not incredibly healthy." The major backbone of the market earnings isn't showing improved figures.
Jeffrey Gundlach said that "the S&P 500 index has gone nowhere in the past 12 months to 18 months." In May 2015, SPY was at 2,107. In June 2016, the index is at 2,105. This indicates that the market (QQQ) (VOO) wasn't able to show a massive turnaround. The earnings growth didn't support the market during this period.
In the next part, we'll analyze the concept of share buybacks. We'll discuss why corporates are pouring money into buybacks.