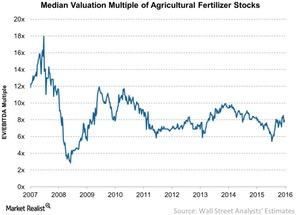 How Do Valuation Multiples Compare among Fertilizer Companies?
By Adam Jones

Updated
Valuation multiples
Previously, we saw expectations for earnings for fertilizer stocks. While 2017 looks better in terms of earnings for fertilizer companies (MOO), the increasing gap between supply and demand could negatively impact fertilizer prices and damage investor confidence.
Over the long run, valuation multiples impact a company's share price. We'll use an EV-to-EBITDA (enterprise value to earnings before interest, tax, depreciation, and amortization) multiple.
Article continues below advertisement
The median level
Valuation multiples reached a high of 18x around 2007 when fertilizer prices were significantly higher. A similar trend followed between 2009 and 2010, when once again fertilizer prices started to rise, lifting valuations to a high of 12x.
Between 2013 and 2016, the valuation multiple has traded at a high of 10x and a low of 5.4x. As of the date of this writing, the median valuation of fertilizer stocks was around 7.9x. That's at the midpoint of the nine-year average of 8.2x, as you can see in the above graph.
CVR Partners (UAN) and CF Industries (CF) are trading below the peer median, at 7.2x and 7.3x, respectively. These two nitrogen fertilizer players are under constant pressure from the fragmented nitrogen fertilizer segment, which has many players due to the abundant availability of natural gas.
Among the potash players, Intrepid Potash (IPI) is trading at 7.5x. Mosaic (MOS) is trading at 8.6x, Agrium (AGU) is trading at 9.3x, and PotashCorp (POT) is trading at 10.3x. These three companies are trading above the peer median.
Israel Chemicals (ICL) is the only company trading near the peer median, at 7.9x.
Interpreting the market
Over the past one month, crop prices have started their ascent. There hasn't been a similar trend for fertilizer prices. The anticipation of the rise in prices for fertilizer with a rise in crop prices may show weakness. This could be primarily due to supply side pressures for all three fertilizers, as we saw in the previous part of this series.