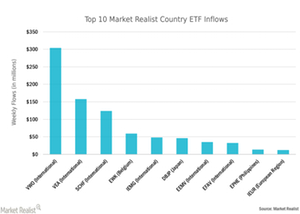 Country ETFs: Mix between Emerging Markets and China
By Meikel Mokry

Jun. 20 2016, Published 8:33 a.m. ET
Country ETF composition matters!
Taking a trip around the world, country ETFs didn't see the magnitude of flows that we saw in US equities, high-yield bonds, and gold. Addressing the two country ETFs with the largest inflows and outflows tells a story that we shouldn't ignore.
Analyzing last week's country ETF flows, the Vanguard FTSE Emerging Markets ETF (VWO) topped the inflow list with ~$300 million of cash trickling into the fund.
Article continues below advertisement
At first, you might think this is another story of the inverse relationship between US yields and emerging markets. Don't be fooled! While this relationship has been true for actual emerging market economies, such as Brazil (EWZ) or South Africa (EZA), VWO's geographical concentration tilts a different direction with China (FXI) and Taiwan (EWT) making up close to 40% of the ETF. Countries such as India, South Africa, and Brazil follow and contribute a little less than 30%. Therefore, investing in VWO expresses two cautious views. First, Chinese equities may have found a bottom and could edge higher again in 2H16. Second, the global zero-yield story might help emerging market countries tackle year-to-date highs again. The key takeaway is that investors don't want pure China or pure emerging market exposure by investing in VWO. This becomes even clearer when you look at the ~$200 million in outflows seen in the iShares China Large-Cap ETF (FXI).
It's a little bit surprising that the past trading week didn't bring about larger flows in country ETFs such as the iShares MSCI United Kingdom ETF (EWU) or any other core-European country ETFs. After all, there was a heavy focus on the European Union referendum on June 23 and the large cross-asset movements we saw in the British pound, the EURO STOXX Banking sector tumbling as much as ~6.3% before recovering again, and Finland's finance minister warning that a Brexit would be Europe's "Lehman Brothers moment." Investors might want to watch these matters. The avoidance of speculative plays has been the theme of the past trading week.