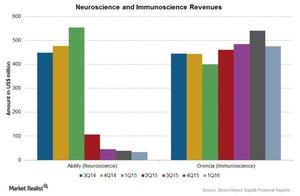 Understanding Bristol-Myers Squibb's Other Segments
The Neuroscience and Immunoscience segments
Sales from Bristol-Myers Squibb's (BMY) Neuroscience segment declined by more than 94% in 1Q16, while sales from the Immunoscience segment improved ~18.7% in 1Q16, as compared to 1Q15. Neuroscience is represented by Abilify. Immunoscience is represented by Orencia.
Article continues below advertisement
Abilify  
Abilify is an antipsychotic agent used in the treatment of schizophrenia and major depressive disorders and is a part of company's alliance with Otsuka Pharmaceutical. Abilify has contributed over $2 billion YoY (year-over-year) since 2012. US markets have contributed more than 75% of the total sales of Abilify.
After the loss of exclusivity in the US markets, however, Abilify revenues have declined by over 94% in 1Q16. The company had lost exclusivity for Abilify in the European markets in 2014, which had impacted the sales of the drug slightly. Abilify has a higher profit margin than a few other products, so lower Abilify sales had a negative impact on gross margin for 1Q16.
Other drugs for schizophrenia include AstraZeneca's (AZN) Seroquel XR, Johnson & Johnson's (JNJ) Invega Sustenna, and Sunovion Pharmaceuticals' (SEPR) Latuda.
Orencia
Orencia is a fusion protein used in rheumatoid arthritis and related indications. Orencia's revenues increased by ~18.7% to $475 million in 1Q16, following the higher demand and higher net selling average price.
Other drugs for the treatment of rheumatoid arthritis include Abbvie's (ABBV) Humira, Amgen's (AMGN) Enbrel, and Pfizer's (PFE) Celebrex. To get exposure to these companies while divesting risk, investors might consider the VanEck Vectors Pharmaceutical ETF (PPH), which holds 5.5% of its total assets in Bristol-Myers Squibb, or the iShares US Healthcare ETF (IYH), which holds 4.1% of its total assets in Bristol-Myers Squibb.