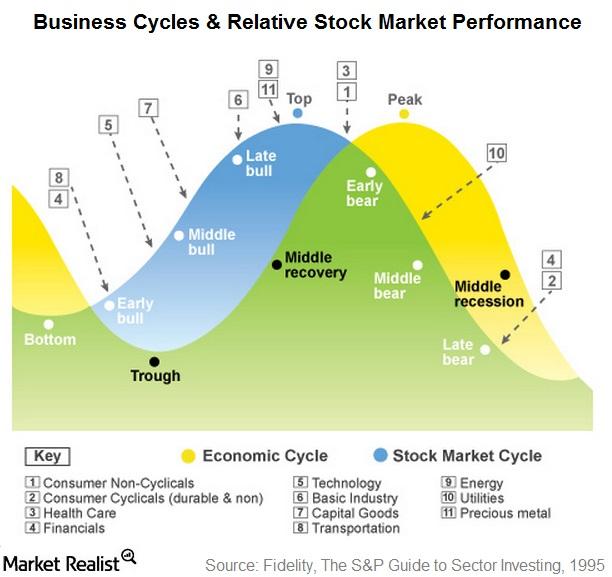 What Phase of the Business Cycle Are We In?
By Surbhi Jain

May. 3 2016, Updated 12:08 p.m. ET
Cycles impact your investments
"The stock market is the story of cycles and of the human behavior that is responsible for overreactions in both directions." – Seth Klarman
The economy and the stock market are both subject to cycles. These cycles are the result of human overreactions to events and changes in expectations. These expectations form as a result of the nature of economic or business data flowing in.
Positive expectations drive both these cycles up, while negative expectations drive them down. These cycles have always driven and will continue to drive investments.
Article continues below advertisement
Economic, market conditions indicate the current business cycle phase
Both the economic and stock market cycles have phases. While the economic cycle consists of the expansion, peak, contraction, and trough phases, the stock market cycle consists of the bull, market top, bear, and market bottom phases.
Studied in conjunction, stock market (VFINX) (VOO) and economic conditions give clear indications of the current business cycle phase.
So, where are we?
Looking at current conditions, we seem to be in an early contraction phase in the economic cycle, which coincides with the middle bear phase in the stock market cycle. These phases are characterized by:
• economic slowdown
• a bearish US stock market (SPY) (IWM) (QQQ) with investors selling on panic
• GDP growth around or below 2%
• investors' looking for safety stocks, including defensive stocks and the stocks of large-cap blue-chip companies
The Dow Jones Industrial Average (DIA) tracks and measures the performance of the 30 largest blue-chip stocks in the United States. 3M (MMM), Goldman Sachs (GS), International Business Machines (IBM), and Home Depot (HD) are the stocks that command the highest weights in DIA. DIA has returned 3.4% to investors year-to-date as of April 22, 2016.
Now that we've identified the current phase of the business cycle, let's move on to sector performance to figure out where opportunity lies.