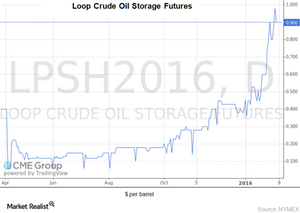 Crude Oil Storage Costs Rose 9 Times, US Crude Tests New Limits
Crude oil storage contracts 
The Louisiana Offshore Oil Port (LOOP) and Matrix launched the first innovative ETF contract based on the crude oil storage capacity at the LOOP Clovelly Hub in the CME Globex. The first trading started on March 30, 2015. The first listed and delivery month was May 2015. The trading floor would be NYMEX. The electronic platform would be CME Globex. This crude oil storage contract will help consumers store crude oil for 1–12 months. Also, it provides transparency for crude oil storage costs over the short term. The contracts provide access to storage at Gulf Coast facilities. Each crude oil storage contract gives the buyer the right to store 1,000 barrels of LOOP sour crude at the LOOP Clovelly Hub for any calendar month.
Article continues below advertisement
Crude oil storage costs 
US crude oil inventories are at an 80-year high at this time of the year. Crude oil storage capacities have been increased due to rising crude oil inventories and long-term oversupply concerns. So, limited crude oil storage facilities caused crude oil storage costs to rise to $0.90 per barrel on February 9, 2016—compared to $0.10 per barrel in August 2015. Crude oil storage costs rose nine times in six months. The costs are even more than the long-term storage costs in the Gulf Coast.
Impact
The wide contango market supports oil tankers like Teekay Tankers (TNK), Frontline (FRO), Euronav (EURN), DHT Holdings (DHT), and Tsakos Energy Navigation (TNP). In the next part of this series, we'll discuss what drives crude oil storage costs. Contango market trader's margins also fall with the rise in storage costs. In the next part, we'll provide the latest update on the US crude oil inventory.
ETFs and ETNs like the United States Oil Fund (USO), the iPath S&P GSCI Crude Oil Total Return Index ETN (OIL), the VelocityShares 3X Long Crude Oil ETN (UWTI), and the ProShares UltraShort Bloomberg Crude Oil ETF (SCO) are also impacted by volatile crude oil prices.