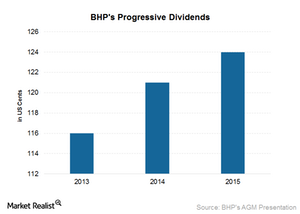 Can BHP Maintain Its Dividends in 2016?
Lower commodity prices
BHP Billiton (BHP) (BBL) is facing pressure in all the commodity businesses it's involved in. At spot prices, free cash flow (or FCF) doesn't cover the company's dividends.
Going forward in fiscal 2016, low iron ore, oil, and coal prices are expected to continue to weigh negatively on BHP's earnings.
In the face of falling commodity prices, investors are understandably concerned about the ability of mining companies to sustain dividends (DVY). Recently, Freeport-McMoRan (FCX), Glencore (GLNCY), and Anglo American (AAUKY) suspended their dividends.
Article continues below advertisement
Balance sheet protection
BHP's management may use capital expenditure (or capex) as a way to offset cash flow decline in this volatile commodity price environment. This, however, may not be conducive to BHP's future growth.
BHP mentioned in its production review, "In this environment, we are also committed to protecting our strong balance sheet so we have the financial flexibility to manage further volatility and take advantage of the expected recovery in copper and oil over the medium term."
In the past, management has mentioned that the company would not borrow to the extent of compromising its finances. This could mean that management would consider a dividend cut to maintain its balance sheet strength.
Focus on February 23, 2016
Investors are looking forward to BHP's fiscal 1H16 results on February 23, 2016, for a decision on the sustainability of progressive dividends amid falling commodity (DBC) prices. However, investors should note that management may decide on dividends during its annual results in August 2016 instead of in February.
For more on iron ore, you can visit Market Realist's Iron Ore page.