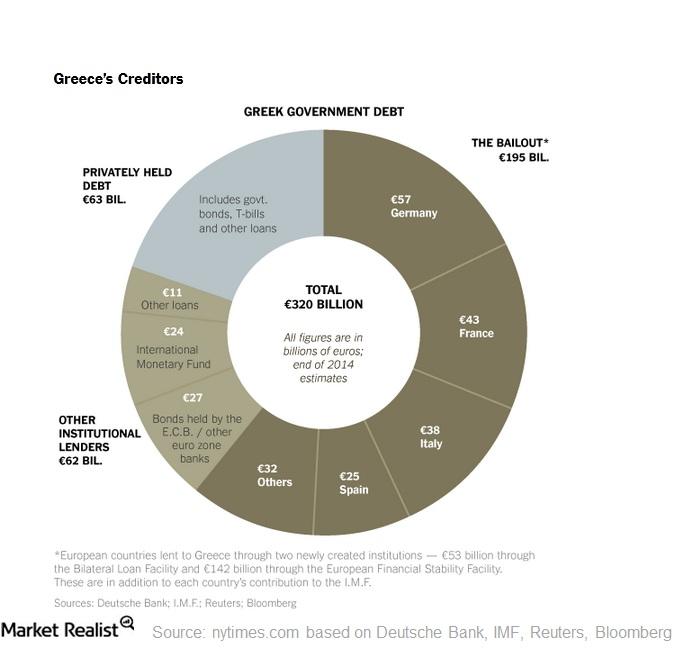 Greek Debt Crisis Impacted the Eurozone in 2015
By Sarah Sands

Jan. 15 2016, Updated 11:04 a.m. ET
Greek debt crisis
Greece's debt was ~250 billion euros. It's nearly 175% of its 2013 GDP (gross domestic product) figures. The 2016 estimates also indicate that the GDP could fall more. The debt crisis started in 2010. It left Greece with soaring debt and an unemployment rate in recent years. The IMF (International Monetary Fund) and the EU (European Union) extended the bailout. The extension involved stiffer austerity reforms, an end of tax evasion, and a new framework to enhance the business activities in Greece. Most of Greece's bailout package will pay off international debt. So, the government has little to invest in the new economic reforms.
Article continues below advertisement
Grexit and the Eurozone
The Grexit can impact the EU's credibility (EZU). Experts suggest that Greece's exit could create risk in the global financial system. The Greek debt crisis left the EU in a difficult situation. It can allow Greece to exit or it can accept Greece's soaring debt. Member countries like Germany (EWG), France (EWQ), Italy (EWI), and Spain have to finance the bailout package apart from the IMF. The Greece debt crisis impacts financial institutions like Deutsche Bank (DB), Banco Santander (SAN), and Unicredit (UNCFF).
The Economist indicated that the divergence between the fiscal and monetary policy in the EU is one of the causes of the Greek debt crisis. The above graph shows the details of Greece's creditors. The migrant crisis is also hitting the EU hard because of the geographical closeness to Syria.
In the next part, we'll discuss the United Kingdom's possible exit from the Eurozone.