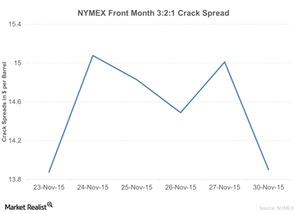 Why Did the Crack Spread Narrow?
By Manu Milan

Updated
Crack Spread
The NYMEX front month 3:2:1 crack spread fell by $1.92 or ~12.7% per barrel from $15.01 per barrel on November 27 to $13.90 per barrel on November 30. The crack spread is almost unchanged compared to the prices at the start of this week. The prices were $13.90 per barrel on November 30. Last week, the prices were $13.88 per barrel on November 23.
Article continues below advertisement
Crack spread and refined products demand
Last week, the crack spread was very volatile. However, it was ~$13.9 per barrel on November 30—where it started last week. This represents lower prices for refined products. The crack spreads represent refiners' margins. They produce the refined products from crude oil. When refined products prices fall, the same is replicated in the crack spread. Refined products prices depend on the demand. If the prices fall, the demand also falls. So, lower crack spread represents lower demand for the refined products.
This week, the crack spreads narrowed compared to the crack spreads last week. This was due to decreased prices for the refined products. The supply of refined products remains at peak levels due to refiners operating at 90% of their operable capacity for the past two weeks. This led to a fall in refined products' prices, so the crack spread narrowed last week.
What's the impact?
The narrowed crack spread decreases the refinery margins. This means that refiners are selling their produced products at lower prices than before. So, the profits will fall for refiners like Marathon Petroleum (MPC), Western Refining (WNR), Phillips 66 (PSX), ConocoPhillips (COP), Chevron (CVX), and Valero Energy (VLO).
Some of the above-mentioned companies are part of the iShares U.S. Oil & Gas Exploration & Production ETF (IEO) and the SPDR S&P Oil & Gas Exploration & Production ETF (XOP).