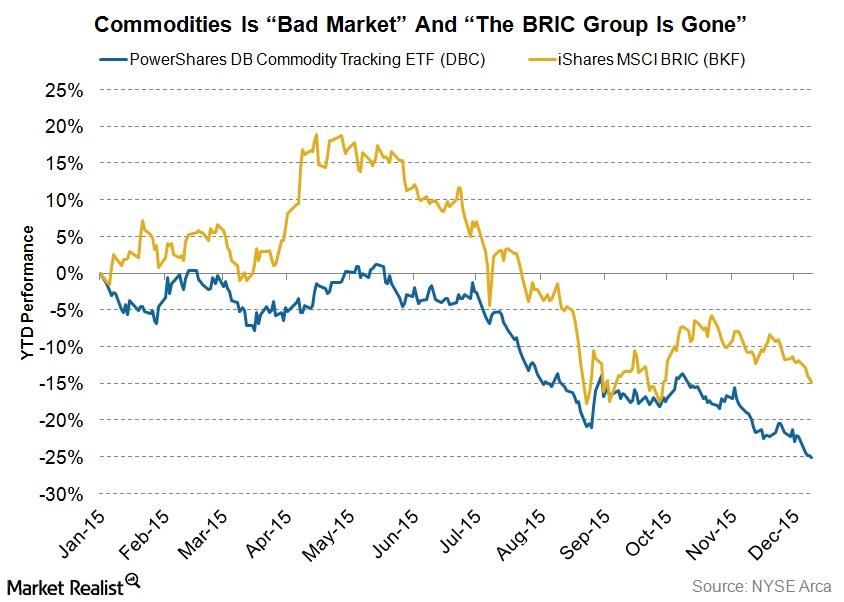 Commodities Are a 'Bad Market' and Volatility Isn't Expected in 2016
Bernstein's views on asset classes
In regards to commodities, gold is a "bad market" for Bernstein. On the currency front, he thinks that the US dollar (UUP) will lose strength. The euro is still seen as a safe haven by many investors. With respect to emerging markets (EEM) (VWO) as an asset class, he says that "the BRIC group is gone." Currently, we're seeing that:
China's manufacturing PMI (purchasing managers' index) is still heading south—like its stock market
We're seeing investors withdrawing from emerging markets. Outflows persisted at the end of November. Investors are withdrawing funds from emerging markets including China (FXI), Brazil (EWZ), and Russia (RSX) due to slowing growth and lower industrial production in these regions. China's steep fall and Brazil and Russia's contractions in fiscal 3Q15 led investors to remain wary of parking their funds in these markets.
Due to the Fed's rate hike, we could see more funds heading towards safe-haven US Treasuries.
Article continues below advertisement
2016 elections
Bernstein's views on the 2016 US elections are particularly interesting. When asked whether the 2016 presidential elections would add volatility to the capital markets, he said that "the market as a discounting mechanism is already discounting that." This means that he doesn't expect the markets to display volatility beyond the normal levels as the presidential elections draw close. He thinks that the tax inversion issue will come to a head because the US is already 29 years away from its last tax reform.
We covered the tax inversion issue while discussing Carl Icahn's endorsement of Donald Trump as a presidential candidate. Icahn counted the tax inversion issue as one of the factors restricting growth in the US. Read Carl Icahn: America Needs Somebody To "Wake It Up" to learn more about the tax inversion issue.