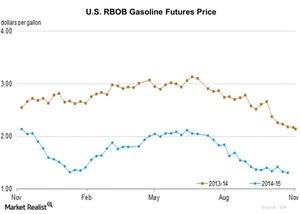 Why Did RBOB Gasoline Outperform Heating Oil?
RBOB gasoline prices
The EIA (U.S. Energy Information Administration) reported RBOB[1. Reformulated Gasoline Blendstock for Oxygen Blending] gasoline futures contract 1 prices at $1.30 per gallon on November 23, 2015. This represents a fall of ~1.8% from the price of $1.32 per gallon recorded on October 16, 2015. Prices were 40% lower than they were a year ago.
Article continues below advertisement
Heating oil prices
The EIA reported heating oil prices at $2.421 per gallon on November 26, 2015. This represents a fall of ~0.3% from the price of $2.429 per gallon recorded on October 19, 2015. Prices were 28% lower than they were a year ago.
Why the positive trend for RBOB gasoline?
Due to a prolonged positive trend in the crack in the crack spread, refiners concentrated more on production levels, creating massive stockpiles of gasoline stocks that had more than the five-year average range, reaching 218.6 MMbpd (million barrels per day) on October 23, 2015, at the same time, distillate stocks were between the middle of the five-year average, at 142.1 MMbpd on September 23, 2015.
The prices of RBOB gasoline fell by 40%, while heating oil's prices fell by 28%. At the same time demand for gasoline rose by 0.3 million barrels per day and distillate demand rose by o.3 MMbpd in comparison with the previous year's demand.
Article continues below advertisement
Due to less heating degree days this year than forecast, as well as various alternatives for heating oil, like electricity, propane, and wood, demand for heating oil is not as much as expected. Also, the benefits of crude oil prices are not fully passing to the consumers. Crude oil prices fell by 50%, but heating oil prices fell just by 28%, and at the same time gasoline prices fell by 40%, attracting consumers in terms of usage. Propane exports from the United States also indicate that there is less demand in the United States for heating oil, So RBOB gasoline outperformed in comparison with heating oil.
Who gains? Who loses?
The rise in prices and demand for the refined products like gasoline and heating oil could be positive for companies by allowing them to sell produced products at higher prices for greater revenue. This includes companies like Exxon Mobil (XOM), Chevron (CVX), Tesoro (TSO), Valero Energy (VLO), and Phillips 66 (PSX).
ETFs that track investments from companies operating in the RBOB gasoline space yield positive results when demand and prices of RBOB gasoline rise. This includes the United States Gasoline Fund (UGA), the PowerShares DB Energy Fund (DBE) the iPath DJ-UBS Energy Total Return Sub-Index ETN (JJE).
Low crude oil prices also affect oil producers like Oasis Petroleum (OAS), Hess (HES), Cimarex Energy (XEC), and Anadarko Petroleum (APC).