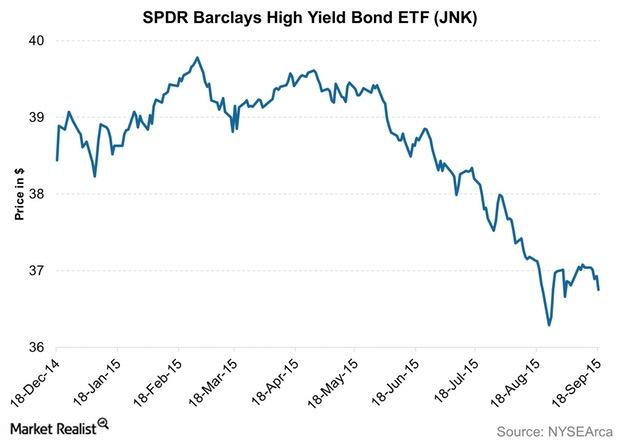 Lack of Rate Hike in September Leads US Stocks Down
US stock indices fall
All three US equity indices that we review in this weekly series fell in the week to September 18, 2015, after having risen in the previous week. The S&P 500 Index, tracked by the SPDR S&P 500 ETF (SPY) and the iShares Core S&P 500 ETF (IVV), fell 0.1%. The Dow Jones Industrial Average (DJIA), tracked by the SPDR Dow Jones Industrial Average ETF (DIA), fell 0.3% week-over-week. Meanwhile, the NASDAQ was down by 0.1% last week.
Article continues below advertisement
Fed's September statement causes stocks to fall
The US Federal Reserve met on September 16 and 17 in one of the most anticipated monetary policy meetings in recent memory. The meeting was important because market participants were quite unsure about the decision on the federal funds rate. Along with developments in China, contrasting views on this front have been the primary market movers in the past two to three weeks.
In its monetary policy statement, the central bank announced that it is leaving the federal funds rate unchanged at 0-0.25% due to unexpected external developments, which can have an impact on the US economy. Stocks, especially financials, like Goldman Sachs Group (GS), Morgan Stanley (MS), and JPMorgan Chase (JPM) fell lower after the release of the statement. Financials fell, as they're expected to benefit from a rise in short-term interest rates.
Weak economy ahead?
Market participants were concerned about the state of the economy after the Fed decided to hold off any rate action. Though the Fed did not sound too bearish about its economic outlook for the US, one voting member actually expected negative interest rates in the US not only in 2015, but throughout 2016 as well.
Junk bonds
Junk bond yields rose week-over-week. With this rise, ETFs investing in junk bonds like the SPDR Barclays High Yield Bond ETF (JNK) and the iShares iBoxx $ High Yield Corporate Bond ETF (HYG) fell in the week ended September 18.
This series will cover the developments in the primary and secondary markets for high yield debt and leveraged loans. We will begin with developments in the high yield primary market issuance.