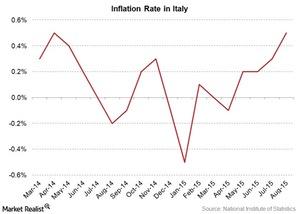 Italy's Inflation Rate Rose in August: EWI Fell 0.40%
European ETFs fall despite favorable indicator readings
Positive indicator readings sometimes aren't enough to boost investor confidence. This is more pronounced in times of higher uncertainty. With the worlds' largest economies not in their best economic phase, the global gloom is weighing down equity markets across the globe.
The iShares MSCI Italy Capped Index (EWI) fell 0.40% at the close of trade on August 31, despite a very favorable indicator reading from Italy. The Eurozone tracking WisdomTree Europe Hedged Equity ETF (HEDJ) fell 0.83% on the same day.
Article continues below advertisement
Italy's inflation rate rose more in August
According to the August 31 release—a preliminary reading—by the ISTAT (National Institute for Statistics), the EU's (European Union) harmonized inflation rate in Italy rose to an impressive 0.50% in August on a YoY (year-over-year) basis—compared to 0.30% in July. The figure was in line with the high estimate. It beat the median estimate for August that stood at 0.20%.
Inflation readings in Italy had been largely improving so far this year. The first quarter readings were boosted by falling oil prices. From the second quarter onwards, the readings were aided by the ECB's (European Central Bank) monetary stimulus. The ECB's QE (quantitative easing) program is doing its part to boost consumer prices in the region.
This is good news for European consumer sector firms like Carnival (CUK), Diageo (DEO), British American Tobacco (BTI), InterContinental Hotels (IHG), Vodafone (VOD), and Unilever (UL).
Stay updated on our latest analysis on the US (SPY) (IVV), Eurozone (VGK), and the world (ACWI) macro environment by visiting Market Realist's Macro ETF Analysis page.