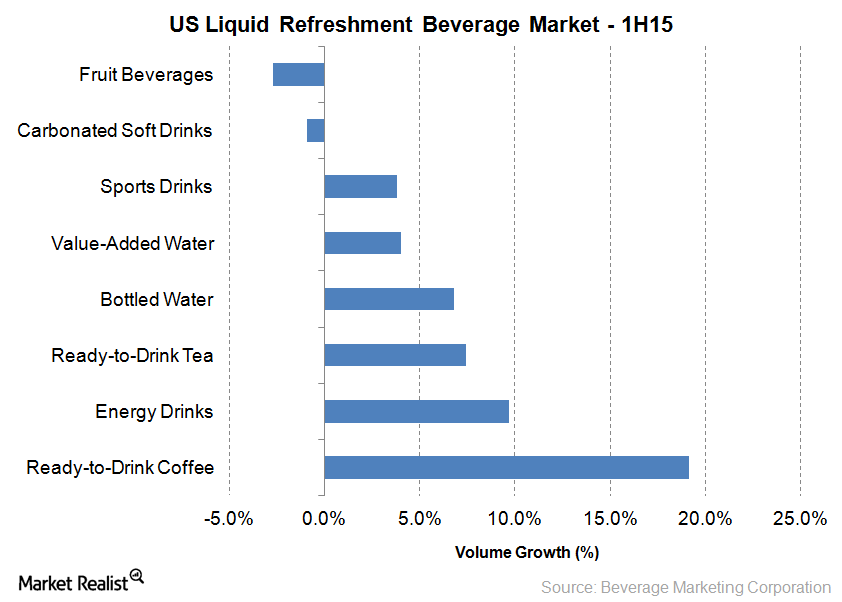 Coca-Cola Is Open to Inorganic Growth in Still Beverages
Opportunities in still beverages
According to Beverage Marketing Corporation, nonalcoholic beverages like bottled water and ready-to-drink coffee continued to outperform carbonated soft drinks (or CSDs) in the first half of 2015. Categories like bottled water, ready-to-drink coffee, and ready-to-drink tea come under the still beverages category.
Article continues below advertisement
Beverage volumes in 1H15
According to Beverage Marketing Corporation, ready-to-drink coffee volumes in the United States increased by 19.1% in 1H15. Energy drinks, ready-to-drink tea, and bottled water posted a volume growth of 9.7%, 7.4%, and 6.8%, respectively.
However, CSDs continued to display weakness and recorded a 0.9% decline in 1H15 volumes. Coca-Cola and its peers have been focusing on marketing and innovation to improve their soda volumes. In 2014, there was a nationwide rollout of Coca-Cola Life in the US market. Coca-Cola Life is a lower-calorie soda beverage containing a natural sweetener called stevia. In August 2015, PepsiCo (PEP) launched an aspartame-free Diet Pepsi line in the United States.
In September 2015, Coca-Cola (KO) brought back its discontinued soda brand Surge to US shelves after making the drink available on a limited basis online on Amazon (AMZN) a year ago. Surge, a citrus-flavored soda drink, is Coca-Cola's first discontinued brand to return.
Despite the wide options available in the CSD category, consumers are opting for healthier still beverage options.
Coca-Cola's still beverage growth plans
Coca-Cola has a dominant presence in the sparkling beverages market. However, it's the still beverage space that has huge growth prospects. At the Barclays Global Consumer Staples Conference on September 9, James Quincey, president and COO (chief operating officer) of Coca-Cola (KO), discussed the company's strategy for rapid growth in still beverages. He said that it will be difficult to achieve the desired scale and margins in still beverages only through organic growth. So the company will have to make acquisitions to grow at a faster pace in the still beverages market.
Quincey cited the example of the Innocent Drinks acquisition in 2013, which helped Coca-Cola expand in Europe. Coca-Cola made a three-stage acquisition of Innocent Drinks, finally raising its stake to more than 90%.
Coca-Cola recently purchased a stake in the popular juice brand maker Suja Juice. We'll take a look at this transaction in the concluding part of this series.
Previously, Coca-Cola purchased a 16.7% stake in Monster Beverage (MNST) to capture opportunities in the high-growth energy drinks market. Coca-Cola constitutes 2.1% of the iShares Russell Top 200 Growth ETF (IWY) and 4.8% of the iShares Global Consumer Staples ETF (KXI).