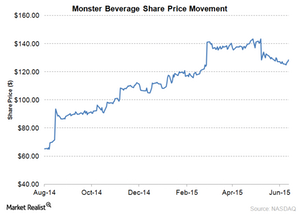 Monster Gets More Energy in Strategic Partnership with Coca-Cola
Strategic partnership
On June 12, 2015, The Coca-Cola Company (KO) completed its strategic partnership with Monster Beverage (MNST). The beverage giant purchased a 16.7% stake in Monster Beverage for ~$2.2 billion.
As part the deal, Monster Beverage added two Coca-Cola–nominated directors to its board. The new directors are Kathy N. Waller, executive vice president and chief financial officer of Coca-Cola, and Gary P. Fayard, Coca-Cola's former chief financial officer.
Article continues below advertisement
Monster Beverage gets more energy
On June 12, Monster Beverage shares rose ~1.0%. Coca-Cola shares went down 0.3% that day. Monster Beverage's share price has gone up 79.2% since the deal was announced in August 2014. In the deal, Coca-Cola transferred its global energy drinks business to Monster Beverage. This includes key brands such as NOS, Full Throttle, Burn, Mother, BU, Gladiator, Samurai, Nalu, BPM, Play and Power Play, Ultra, and Relentless. Monster Beverage, which already has a strong presence in the energy drinks market, will gain even more market share with the addition of Coca-Cola's energy drinks business.
Monster Beverage and Coca-Cola together account for more than 10.1% of the portfolio holdings of the Consumer Staples Select Sector SPDR ETF (XLP).
Leveraging Coca-Cola's distribution network
Since the announcement of the partnership in August, Monster Beverage along with Coca-Cola and its bottlers have been expanding their distribution agreements in the United States and Canada to include new territories. Coca-Cola is now Monster Beverage's preferred global distribution partner. New international distribution agreements have already been established in Germany and Norway.
Smaller players like Monster Beverage and Dr Pepper Snapple (DPS) depend on the extensive distribution networks of Coca-Cola and PepsiCo (PEP) for distribution of some of their brands. With the completion of this deal, Monster Beverage can leverage Coca-Cola's strong distribution network in more than 200 countries.
In the next part of this series, we'll look at the non-energy drink brands that Monster Beverage transferred to Coca-Cola in the deal.