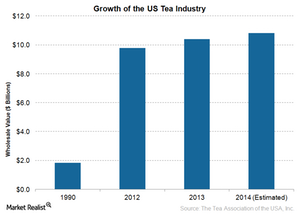 The Growing Demand for Tea in the US
The World Tea Expo
The World Tea Expo was held from May 6 to May 8 in Long Beach, California. The World Tea Expo is organized by The Beverage Group, an integrated media company that provides business solutions to the global beverage industry. The trade show had participants from over 50 countries.
Article continues below advertisement
Article continues below advertisement
Growth in tea consumption
Tea is the second most popular beverage in the world, next to water. Though the per capita consumption of tea in the US is quite low compared to countries like the UK and China, the growth in tea consumption in recent years has been impressive. According to the Tea Association of the USA, the total wholesale value of tea sold in the US grew from less than $2 billion in 1990 to over $10 billion in 2014. The preference for healthier beverages is driving consumers away from soda and boosting the demand for tea and other categories like bottled water.
Major players
The major companies in the US tea business include Unilever (UL), R.C. Bigelow, Hain Celestial, and Twinings. Beverage giants like PepsiCo (PEP), Coca-Cola (KO), and Dr Pepper Snapple (DPS) also have some strong tea brands in their respective portfolios. PepsiCo, under its partnership with Unilever, sells ready-to-drink Lipton iced teas. Beverage companies make up ~20% of the portfolio holdings of the Consumer Staples Select Sector SPDR Fund (XLP).
The World Tea Expo discussed several topics, including the general trends and growing demand in the tea industry, direct trade with tea producers, product quality, false marketing and labeling, and commercial production of tea in the US. The expo's primary focus was on specialty and premium teas.