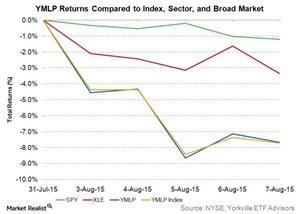 Why Did the YMLP ETF Fall Last Week?
Yorkville High Income MLP ETF
The Yorkville High Income MLP ETF (YMLP) dropped 7.69% in the week ended August 7. The broad-market SPDR S&P 500 ETF (SPY) dropped 1.2% and the Energy Select Sector SPDR ETF (XLE) fell 3.4% during the week. YMLP tracks the Solactive High Income MLP Index, also called the YMLP Index. The index fell 7.7% in the week. The Alerian MLP Infrastructure Index (AMZI) fell 9.6% during the week. The decline in crude oil prices contributed to the weekly fall in energy sector ETFs.
Article continues below advertisement
YMLP has a management fee of 0.82% and total net assets of $186 million. Navios Maritime Partners (NMM), Calumet Specialty Products Partners (CLMT), Seadrill Partners (SDLP), NGL Energy Partners (NGL), and Exterran Partners (EXLP) are the ETF's top five holdings. Together, these five MLPs account for ~31% of YMLP. SDLP fell 9.1%, CLMT fell 10.2%, and NGL fell 12% last week.
YMLP's portfolio's average company size by market capitalization is $1.3 billion. The portfolio's holdings range from $530 million to $3.2 billion in market capitalization. Of the MLPs in the fund, 30% are involved in marine transportation, 25% provide energy services, and 20% are exploration and production MLPs. Downstream MLPs account for 17% of YMLP's holdings. The above graph compares YMLP's returns for the week with its underlying index (the YMLP Index), SPY, and XLE. All these returns are gross dividends.
The YMLP Index
The Solactive High Income MLP Index is a rules-based index focused on high distribution–paying, publicly traded MLPs. The index's constituents are selected based on certain criteria relating to current distributions, coverage ratio, and historical distribution growth. The index currently consists of 25 MLP stocks.