How Has the Russian Stock Market Changed?
The Russian stock market is upbeat, which adds to the ruble's strength.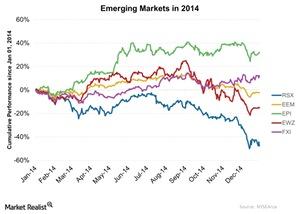 What has changed with the Russian stock market?
A year ago, Russia was sanctioned for seizing Crimea from Ukraine, which adversely affected its economy. Russian stocks, bonds, and commodities had the worst performance in 2014 in comparison to any emerging market. The above land seizure made the ruble the most volatile currency in the world.
Let's look at the performance of Russia (RSX) compared to the iShares MSCI Emerging Markets ETF (EEM), the iShares China Large-Cap ETF (FXI), the WisdomTree India Earnings ETF (EPI), and the iShares MSCI Brazil Capped ETF (EWZ) since January 2014.
From the above chart, we can see the performance of RSX was the worst in 2014, wherein EPI and FXI performed extremely well.
Article continues below advertisement
Article continues below advertisement
However, in 2015, the picture has changed and investors now favor Russia. It seems the geopolitical scenes have smoothed out, which is positive for trade and investments. This is evident in the improving performances of Rosneft (OJSCY), LUKOIL (LUKOY), and Gazprom (OGZPY). Thus, the currency is stabilizing, and the swings in its value have narrowed this year.
Due to difficulties in the availability of foreign goods as a result of sanctions, Russians resorted to domestic products and services. Many Russian companies outperformed their global peers. Russia's largest retailer, Magnit PJSC (MGNT), which is traded on the Moscow stock exchange, recorded 22.58% YTD (year-to-date) returns as of July 27, 2015.
Novatek OAO (NVTK) is a $22.8 billion producer of natural gas in Western Siberia. Its total revenues increased by 28.3% to 113.7 billion rubles in the first quarter of 2015 as compared to 88.7 billion rubles in the corresponding period of 2014. The company's YTD return as of July 27, 2015, is 28.74%. Similarly, the oil company Rosneft (ROSN) has performed well in the industry with YTD returns of 12.67% as of July 27, 2015. The government of Russia owns the majority stake in Rosneft. Thus, the stock market in Russia is upbeat, which adds to the ruble's strength.
Now let's analyze the probable effects that the Iran deal will have on Russia and the ruble.