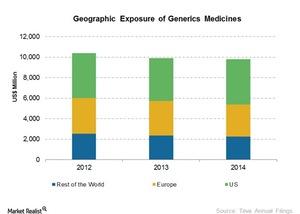 Central Nervous System Is Key to Teva's Specialty Medicines
Overview of Specialty Medicines
Revenues for Teva's (TEVA) Specialty Medicines segment grew by 2.1% to $8,560 million in 2014, from $8,388 million in 2013. In 2014, central nervous system (or CNS) was the major contributor with ~65% of the net revenues. This was followed by oncology at ~14%, respiratory at ~11%, and women's health at ~6%.
Revenue growth was primarily driven by the following factors:
Oncology grew by 17.4% from the previous year on account of higher sales of existing products such as Treanda.
CNS grew by 0.5% from the previous year due to higher sales of Azilect and Nuvigil.
The launch of new products in therapeutic areas of respiratory (DuoResp Spiromax) and oncology (Lonquex, Granix) contributed ~$200 million.
The increase was offset by a decline in revenues from respiratory, women's health, and other specialty.
The United States was the largest market, contributing ~71% to the segmental revenues, followed by Europe at 22% and rest-of-the-world (or ROW) markets at 6% in 2014.
Article continues below advertisement
Key products
The following are Teva's key products:
Copaxone (20 mg/mL) – Copaxone is Teva's key product in central nervous system. It is the leading drug for the treatment of multiple sclerosis in the United States and worldwide. Multiple sclerosis is the most common cause of neurological disability and affects ~2.5 million people worldwide.
Azilect – Azilect is a central nervous system product used for the treatment for Parkinson's disease. In the United States, the disease affects ~1 million people.
Treanda – Treanda is the key injectable product in oncology, used for the treatment of the following two types of cancer:

chronic lymphocytic leukemia (or CLL), one of four main types of leukemia – Leukemia is a cancer of the bone marrow. CLL accounts for about one-third of all cases of leukemia.
non-Hodgkin lymphoma (NHL), a type of cancer that occurs in the lymphatic tissue in the body – Lymphatic tissue contains cells called lymphocytes, or white blood cells, which are part of the body's immune system.
You can enjoy the profitability derived through Teva's specialty business by investing in pharmaceutical ETFs such as the iShares U.S. Healthcare ETF (IYH), which has holdings in companies such as Actavis (ACT), Hospira (HSP), Mallinckrodt Plc (MNK), Impax (IPXL), and Perrigo (PRGO), which comprise around 5.38% of the fund's total holdings.