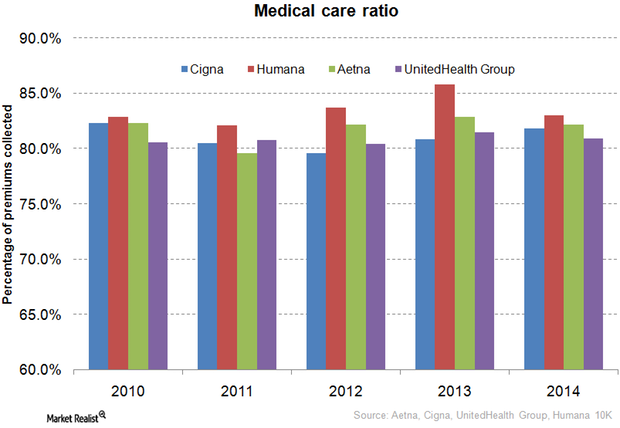 How Does Aetna Compare to Its Peers in Medical Care Ratio?
Medical care ratio
The medical care ratio of health insurance companies (XLV) is calculated as the ratio of the total money spent in health care claims to premiums earned, adjusted for tax and regulatory expenses. A smaller medical loss ratio indicates a higher profit margin.
The above graph shows that Aetna's (AET) medical care ratio is lower than that of Humana (HUM), but higher than that of Cigna (CI) and UnitedHealth Group (UNH). To find out more about medical care ratio, please refer to Why the Affordable Care Act (ACA) hurts the managed care industry.
Article continues below advertisement
Regulations
Effective in 2014, the ACA imposed an annual "health insurance fee" on private health insurance companies. Revenues earned from self-insured enrollments are exempt from this fee. Health insurance companies pass the fee to their fully insured customers in the form of increased premiums, and can thus control the outflow of cash. To learn more about self-insured and fully insured enrollments, please refer to the Shift to self-insurance plans affects health insurance stocks.
In 2014, Aetna's medical care ratio for its commercial business was 80.2%, while that of its government-sponsored business was 84.9%, resulting in a combined ratio of 82.2%. The low commercial medical care ratio can be attributed to Aetna's favorable enrollment mix. About 68% of Aetna's enrollment is either employer-sponsored or individually insured members. Out of these commercial enrollments, approximately 67% are self-insured and are exempt from the health insurance fee while the remaining bear the burden of the fee with higher premiums.
Article continues below advertisement
However, Medicare and Medicaid enrollees cannot absorb this fee in their premiums, as the CMS determines the premium levels for these programs through a prospective payment system that doesn't include reimbursement for the health insurance fee. Also, effective 2014, the ACA requires health insurance companies to maintain a medical care ratio of at least 85% for the MA (Medicare Advantage) enrollees, further restricting margins earned from Medicare beneficiaries.
Utilization
Utilization of medical resources depends not only on effective coordination of care, but also on unexpected events such as higher-than-expected victims of a disease and increasing drug expenses. The US experiences epidemics of influenza every year, especially in winter. However, in 2014, the associated hospitalization rate of Medicare beneficiaries has been the highest since 2005. This, coupled with costly prescription drugs, especially for Hepatitis C, has resulted in substantial costs for Aetna.