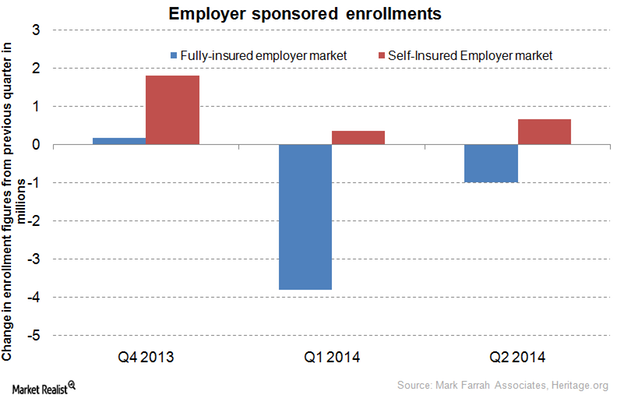 Shift to self-insurance plans affects health insurance stocks
By Margaret Patrick

Feb. 9 2015, Updated 4:05 p.m. ET
Self-insurance plans
The health insurance industry (XLV) is witnessing a gradual shift from fully insured or commercial risk–based plans to self-insured or administrative service only (or ASO) forms of insurance. Employer-sponsored coverage, a major form of insurance, has increasingly adopted ASO plans, as they're more cost-effective and flexible than full-risk or commercial risk–based plans.
The above graph shows the trend in the fully insured employer market versus the self-insured employer market from the fourth quarter of 2013 to the second quarter of 2014. The self-insured market displayed a modest increase, while the fully insured market reported a decline in enrollments. In the fully insured market, the employer contracts with another organization, an insurance company or managed care organization, to assume responsibility for all of the enrollee's claims. In the self-insured market, the employer assumes the risk for claims.
Article continues below advertisement
In ASO plans, employers can eliminate the overhead charges from insurance companies for underwriting and marketing purposes, which are about 2% annually. Plus, ASO plans aren't subject to state premium taxes, saving another 2%–3%, and they're exempt from state insurance laws. For employers with operations in multiple states, ASO plans help create national consistency. Increased flexibility in structuring employment benefits and reduced costs have led employers to opt for self-insurance.
SG&A expenses
As hospital utilization remains low, more employers are exploring the option of self-insurance to reduce their employee benefit costs. As self-insured plans earn only administrative fees compared to fully insured plans, which earn premiums and overhead charges, the average revenue per member of public managed care and health insurance companies has been declining. The selling, general, and administrative expense ratio (or SG&A), which forms about 10%–12% of the insurance company's revenues, has been increasing further with the increase in administrative expenses for self-insurance plans. Analysts have observed this trend for major managed care companies like Aetna (AET), Humana (HUM), Centene (CNC), and WellCare Health Plans (WCG) from 2Q14 to 3Q14.