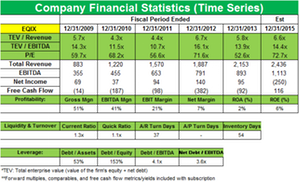 JANA sells stake in Equinix
By Samantha Nielson

Dec. 4 2020, Updated 10:52 a.m. ET
JANA exits position in Equinix
Article continues below advertisement
Overview of Equinix
Equinix provides global data center offerings that protect and connect the world's most valued information assets. It connects more than 4,500 companies directly to their customers and partners inside the world's most networked data centers in 32 domestic and international markets.
Equinix offers premium data center colocation, interconnection, and exchange and outsourced IT (information technology) infrastructure services through its International Business Exchange (or IBX) data centers.
Equinix board approves REIT conversion, awaits IRS ruling
Equinix's board of directors unanimously approved the conversion to an REIT. Although it still needs approval from the IRS (Internal Revenue Service), it started operating as an REIT on January 1, 2015. A company news release noted that "based on existing legal precedent, opinions of counsel and the fact that many other data center companies currently operate as REITs, Equinix believes that it will qualify for taxation as a REIT and that it will receive a favorable PLR, if not by the end of the year, then early in 2015."
An REIT conversion is expected to benefit the company, as REITs pay lower taxes and higher dividends than other companies.
Article continues below advertisement
4Q14 revenue beats guidance, EPS misses consensus
Equinix reported revenues of $638.1 million, a 3% increase over the previous quarter and a 13% increase over the same quarter last year. Basic and diluted net income per share of $0.56 for the fourth quarter did not meet analysts' estimates.
In an Equinix press release, the company stated, "Excluding the de-recognition of the deferred tax assets and liabilities relating to the REIT conversion of $324.1 million and the loss on debt extinguishment, pro forma net income attributable to Equinix was $31.1 million for the fourth quarter." Adjusted EBITDA was $294.4 million, a 4% increase over the previous quarter.
The company said its results were due to "record bookings, driven by strong performance across all three regions, new customer wins and continued expansion of cloud ecosystem."
JANA's 4Q14 positions
JANA Partners added new stakes in NCR Corporation (NCR), SolarCity Corporation (SCTY), Computer Sciences Corporation (CSC), and Salix Pharmaceuticals, Ltd. (SLXP). It sold stakes in Equinix, Inc. (EQIX), Cameron International Corporation (CAM), Dollar General Corporation (DG), and QEP Resources Inc. (QEP). It added to its stakes in Hertz Global Holdings, Inc. (HTZ) and Valeant Pharmaceuticals (VRX).
In the next part of this series, we'll talk about JANA Partners' exit from Cameron International Corporation (CAM).