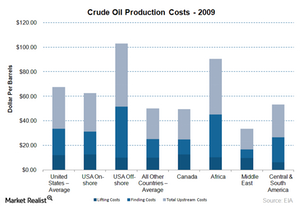 How does the production cost of crude oil affect oil prices?
Production cost vs breakeven price
The costs required to lift crude oil and maintain oil wells, equipment, and facilities is called production cost or lifting cost. The breakeven price of crude oil includes production cost, exploring or finding cost, oil well development cost, transportation cost, and selling and general administration expenses.
Article continues below advertisement
Implications
The EIA's (Energy Information Administration) 2009 report shows the production cost of crude oil was ~$12 per barrel for the United States and ~$10 per barrel for the Middle East. But recent consensus says these costs could range from $20 to $25 per barrel. Exxon Mobil (XOM) crude oil production cost was $12.72 per barrel in 2013 from its US oil wells. Continental Resources' (CLR) production cost of crude oil was $0.99 per barrel in 2013 from its South Central Oklahoma Oil Province.
This shows oil companies can sustain production at crude oil prices as low as $20 to $25 per barrel excluding taxes and transportation costs from existing oil wells. Lower crude oil prices may also lead to renegotiation of transportation costs. It also makes it possible for crude oil to fall below the lowest price range US shale oil companies need to break even and maintain production into the future.
Oil price recovery
Of course, oil wells with high lifting costs may shut down. But oil prices will likely rise only when US oil production falls. Low oil prices push oil companies to reduce spending and investments in new projects. Some US oil exploration and production companies such as ConocoPhillips (COP) announced a spending cut of $3 billion for 2015.
Apache Corporation (APA) plans to reduce its capital expenditure by 26% in 2015 compared to 2014. Denbury Resources (DNR), Rosetta Resources (ROSE), and Halcon Resources (HK) also reported a decline in spending in 2015 compared to 2014. This shows production will drop in the long term. This will lead to a sharp drop in supply, and crude oil prices will rise in the long term.
So what are some indicators investors should know that affect oil prices and the outlook for oil production?