Toll Brothers focuses on the luxury end of the homebuilding market
Toll Brothers (TOL) designs, builds, and markets luxury attached and detached homes in upscale residential communities. It also builds and converts existing apartment buildings into high-, mid-, and low-rise luxury homes and develops luxury condominiums and for-rent, high-rise apartment complexes.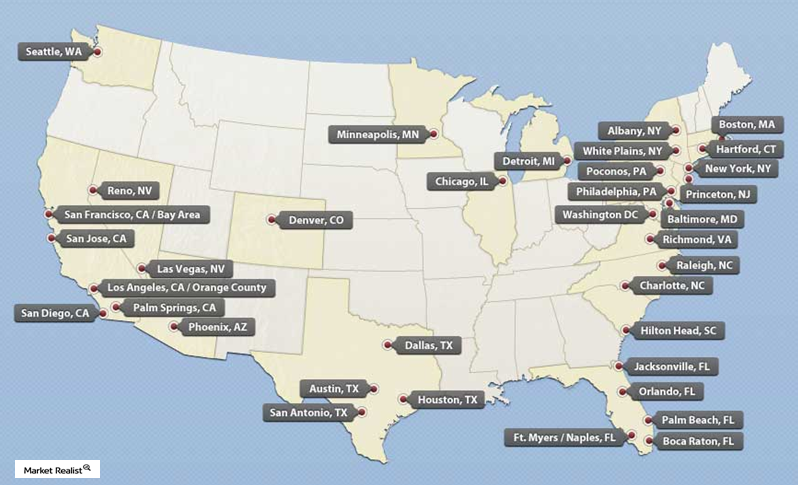 Toll Brothers caters to move-up, empty-nest, active-adult, age-qualified, and second-home buyers in the United States. It currently operates in 19 states.
Article continues below advertisement
Toll Brothers is generally located around large cities and the suburbs and has a largely coastal presence. Toll Brothers develops golf courses and country clubs in conjunction with its master communities. Toll Brothers tends to partner with unrelated parties in some luxury condo projects as well as luxury hotels and some planned communities.
Toll Brothers has created two trusts that invest in commercial real estate ventures. It also operates Gibraltar, a real estate asset manager that invests in distressed real estate opportunities.
Toll Brothers versus peers
Toll Brothers' average selling prices are much higher than other builders' such as Lennar Corporation (LEN), D.R. Horton (DHI), and PulteGroup (PHM). Toll Brothers' latest average selling price is around $750,000. A comparable company is NVR, Inc. (NVR), which means Toll Brothers' customer base is very different from most other builders.
Toll Brothers' customers
Typical customers of Toll Brothers haven't been immune to the slowdown. In particular, they may be worried about the path of the economy or might be trapped in homes they can't sell.
For the most part, however, Toll Brothers' customers remained employed during the downturn and are in a better position to buy than customers of entry-level builders like PulteGroup. Toll Brothers' customers have largely shrugged off the real estate bust since the high end of the market has held up better than the lower end. In addition, quantitative easing has increased asset prices, and the rich benefit most from asset price inflation.
Toll Brothers recently acquired Shapell, a West Coast–based builder. This deal will increase Toll Brothers' exposure to the red-hot Los Angeles and San Francisco markets.