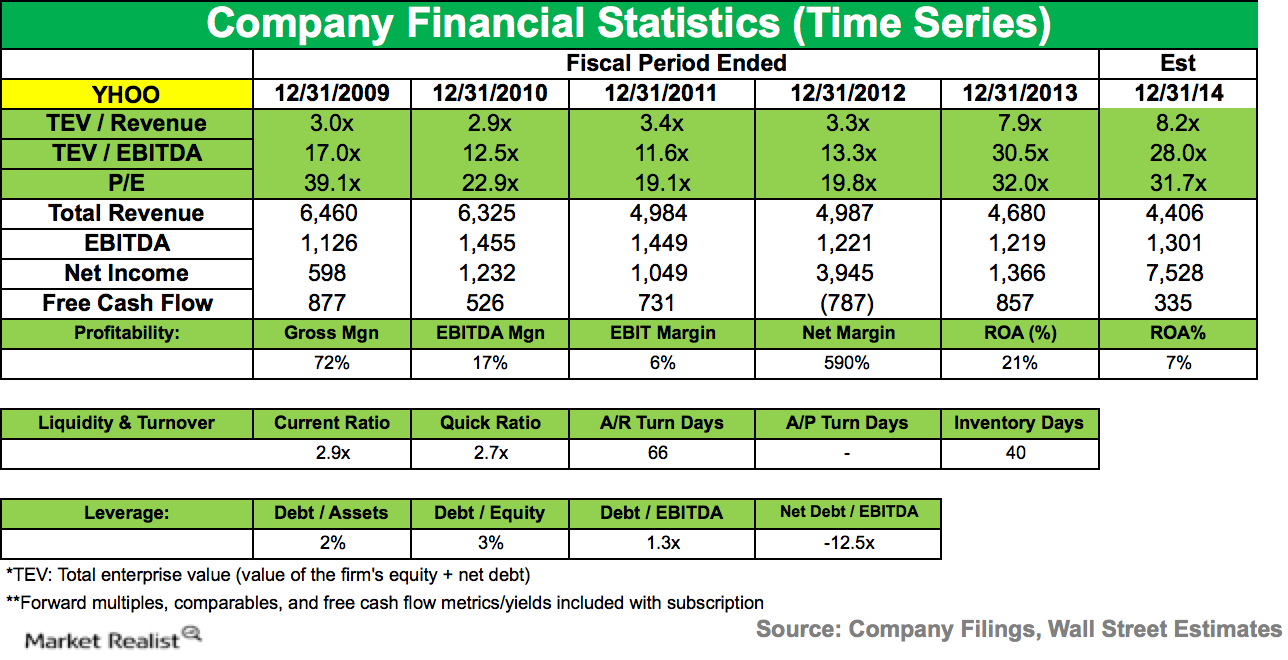 Farallon Capital sells stake in Yahoo!
Yahoo! Inc. position
Farallon Capital Management sold its position in Yahoo! Inc. (YHOO) during the third quarter. The stock accounted for 3.39% of the fund's total 2Q14 portfolio.
Article continues below advertisement
Overview of Yahoo! Inc.
Together with its consolidated subsidiaries, Yahoo! Inc. offers search, content, and communications tools on the web and on mobile devices. The company earns revenue primarily by advertising to its 800 million monthly users through various products and platforms.
Before the Alibaba Group Holdings Ltd. (BABA) initial public offering (or IPO) came to dominate the headlines, Yahoo had held a 23% stake in the company. Yahoo sold 122 million shares of Alibaba and saw an after-tax windfall of $5.1 billion, while Alibaba's $25-billion IPO became the biggest one of all time.
Yahoo's acquisitions
On August 26, Yahoo completed its purchase of the mobile analytic firm Flurry for $240 million. Yahoo said, "Flurry will work with Yahoo to create more seamless, smarter mobile experiences."
Yahoo will buy BrightRoll, a leading video advertising platform, for $640 million in an all-cash deal. Yahoo said, "Acquiring BrightRoll will dramatically strengthen Yahoo's video advertising platform, making it the largest in the US." The company expects the deal to close in 1Q15.
According to company reports in November, "Yahoo acquired photo start-up Cooliris in order to build inspiring products, grow engagement, and ultimately, revenue."

Article continues below advertisement
Strategic partnership with Mozilla
In November, Yahoo announced a five-year, strategic partnership with Mozilla. Mozilla has declared Yahoo to be its default search engine in the US on desktop and mobile platforms. This will help Yahoo to expand its reach in search.
Starboard Value's plan for Yahoo and AOL
In September, activist investor Starboard Value asked Yahoo to explore a merger with rival AOL Inc. (AOL). Starboard believes that a Yahoo–AOL combination could create a more tax-efficient operation and "synergies of $1 billion by reducing overlap of advertising cost." The fund wants AOL to lead the combined company.
Starboard took a 2.4% stake in AOL in 3Q14 and owns an 0.8% stake in Yahoo.
Article continues below advertisement
3Q14 results
Yahoo's revenue grew by 1% to $1.14 billion during the third quarter. GAAP (generally accepted accounting principles) net earnings rose to $6.77 billion, helped by a $6.3-billion gain from the sale of the company's stake in Alibaba Group. GAAP net earnings per diluted share was $6.70 compared to $0.28 in 3Q13.
Other positions for Farallon in 3Q14
During the third quarter, Farallon Capital Management started new positions in Time Warner Inc. (TWX), Tim Hortons Inc. (THI), International Game Technology (IGT), and Cognizant Technology Solutions (CTSH). The fund increased its positions in DIRECTV (DTV), Covidien plc (COV), Allergan Inc. (AGN), and Shire plc (SHPG). Positions sold by Farallon during the third quarter include Oracle Corp. (ORCL) and Weyerhaeuser Co. (WY).
The next part of this series will cover Farallon's new position in Oracle Corp.