WISH Stock Forecast: Short Squeeze Might Follow Its Earnings Release
ContextLogic (WISH) stock has had a turbulent ride since its listing. The stock closed down 4.5 percent on Aug. 11 but was higher in the premarket on Aug. 12. The stock surged amid the pumping from Reddit traders but has since pared its gains. What's the forecast for WISH stock and is it a good buy after the crash? Also, is another short squeeze coming after the earnings?
Article continues below advertisement
WISH priced the IPO at $24 in December 2020. The stock closed down on the very first day, which was in stark contrast to what we saw from other listings like DoorDash and Airbnb that month. ContextLogic is now down almost 60 percent from the IPO price and is among the worst listings over the last year.
WISH earnings
WISH is scheduled to release its second-quarter earnings on Aug. 12 after the markets close. The analysts polled by TIKR expect the company to post revenues of $722.9 in the quarter, which is below the $772 million that it posted in the previous quarter. However, the company's EBITDA loss is expected to narrow to $58 million from $79 million in the first quarter of 2021.
Article continues below advertisement
WISH has been witnessing uneven and tepid growth and it hasn't turned profitable yet on the EBITDA level. Both of these factors have been weighing on the stock's valuation. WISH trades at a massive discount to other e-commerce companies. WISH has an NTM EV-to-sales multiple of 1.34x compared to 2.62x for Coupang and 3.32x for Amazon.
Article continues below advertisement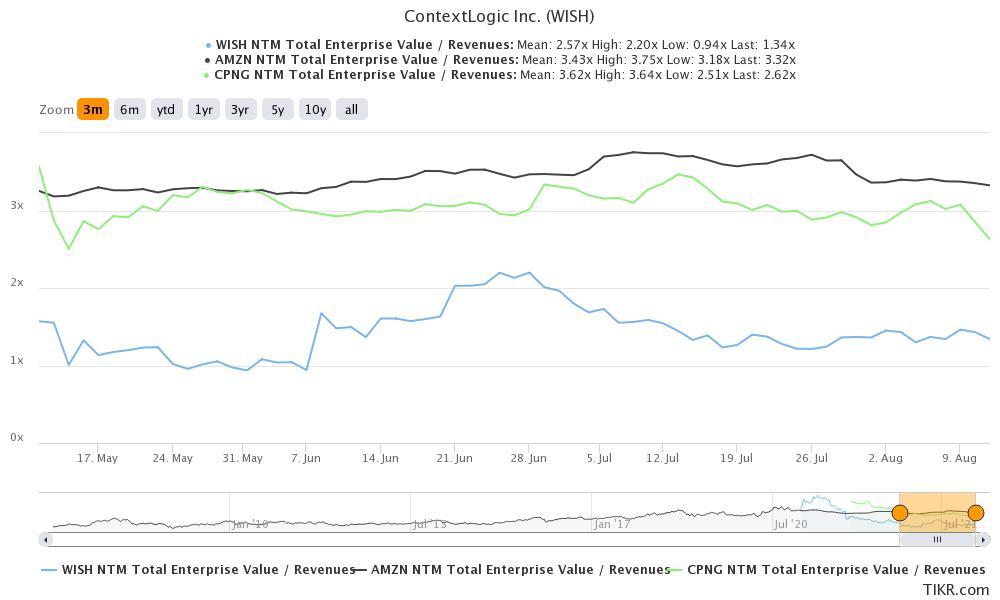 WISH stock forecast
Wall Street analysts have a split rating on WISH stock. Among the 14 analysts polled by MarketBeat, nine rate WISH as a buy, while four rate it as a hold. One analyst has a sell rating on the stock. Its average target price of $21.67 is a premium of more than 120 percent over the current prices.
Article continues below advertisement
Meanwhile, several brokerages have been lowering their target prices for WISH stock. Last month, Bank of America downgraded the stock from a buy to neutral and slashed the target price from $18 to $12. In May, Nicholas and Credit Suisse also lowered their target price after WISH reported its earnings.
Article continues below advertisement
Will ContextLogic stock rise or fall after its earnings?
The earnings season for e-commerce companies hasn't been pleasant. Alibaba, Amazon, and Coupang stocks fell after their earnings releases. While Coupang's earnings missed the estimates, Amazon's topline growth and third-quarter guidance disappointed markets. E-commerce companies are witnessing a slowdown in growth rates after the bump in 2020.
Is WISH a good stock to buy now?
WISH stock has looked weak. Apart from the broader sell-off in e-commerce stocks, company-specific factors have also been weighing on the stock. The second-quarter earnings release will be a key opportunity for the company to instill confidence among investors. The stock looks like a good buy based on tepid valuations, but the company has to improve its financial performance for it to go up sustainably.
Article continues below advertisement
WISH stock short squeeze
According to data from Fintel, WISH has a FINRA short interest of 56 percent on Aug. 11. That's a pretty high short interest and if the company can report better-than-expected earnings, we could see a short squeeze.