Should You Get Greedy on BABA Stock Now as Markets Get Fearful?
The sell-off in Chinese stocks has intensified as the country continues to crack down on tech companies. After Alibaba (BABA) and DiDi Global, it's education companies' turn. Alibaba hit a new 52-week low on July 26 and looks set to continue its slump on July 27. Is Alibaba stock a good long-term investment now after the crash? What's the stock's forecast for 2025?
Article continues below advertisement
China's tech crackdown started in 2020 and the initial punches were reserved for Alibaba. Jack Ma's outbursts against the country's financial regulators were probably the first time that a Chinese business leader chose to publicly vent his anger against the authorities.
BABA agreed to a record $2.8 billion fine.
While such outbursts aren't uncommon in mature democracies like the U.S., they were a little too much for China. After Ma's comments, Ant Financial's IPO got shelved and Ma wasn't seen in public for months before reappearing earlier in 2021.
Article continues below advertisement
BABA agreed to pay a $2.8 billion fine in the antitrust probe, which markets saw as a sign of a thaw in relations with authorities. While there hasn't been an Alibaba-specific witch-hunt lately, the country has expanded the scope and is targeting companies in multiple sectors.
Article continues below advertisement
Why is China targeting tech companies?
It has always been difficult to read the Chinese government's actions. Meanwhile, there are several reasons behind the country's crackdown on private-sector tech companies. There's rising wealth inequality in the country and the perceived risk from the strengthening private sector.
Article continues below advertisement
Historically, the Chinese economy has been dominated by large state-owned enterprises. Over the last few decades, the private sector flourished in the country as it gradually relaxed norms.
Things have changed under Xi Jinping's presidency. He's arguably the country's strongest leader in decades. The crackdown on tech companies intends to rein in private enterprises and assert state authority.
Article continues below advertisement
While there could be genuine antitrust concerns about some of the tech companies, there are other factors at play, which were exemplified by the DiDi debacle where the country cited national security concerns.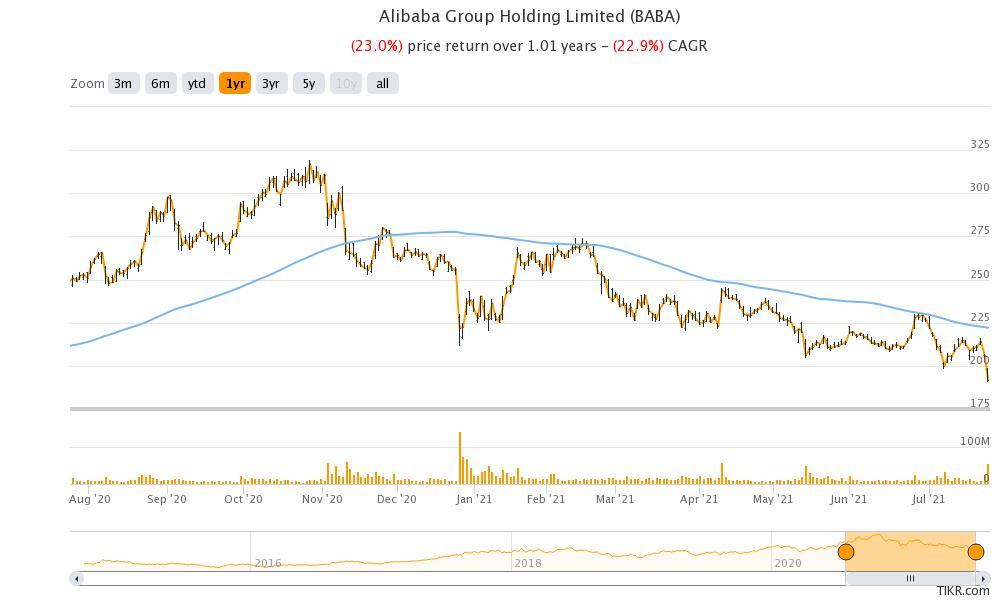 Article continues below advertisement
BABA stock prediction
Analysts have a bullish forecast and BABA's median target price implies an upside of 49 percent over the next 12 months. These target prices were issued before the current crackdown on Chinese tech stocks. China's high-handedness has changed the valuation framework and outlook for Chinese stocks including BABA.
BABA stock forecast 2025
The long-term outlook for BABA stock looks positive because both e-commerce and cloud are fast-growing industries. BABA has a lead in the Chinese e-commerce markets even though foreign e-commerce giants like Amazon have struggled in the country.
Article continues below advertisement
The company has benefited from supportive government policies. However, things have changed and it isn't possible to predict how much worse could things get before they get better.
Article continues below advertisement
Is Alibaba stock a good long-term investment?
If we ignore China's crackdown, Alibaba looks like a tempting buy at these prices. However, the geopolitical risk associated with investing in Chinese stocks has risen considerably since we never know "who's next."
Article continues below advertisement
Investing in BABA and Chinese stocks is risky.
As Fraser Howie, an independent analyst said, "Everybody's in the cross-hairs." Also, while BABA stock looks attractive from a valuation perspective, it is not easy to price the risk given the uncertainty. Goldman Sachs' probably made a golden statement in a note to clients. "Even when you think China risk is priced…it can get worse."
It's always risky to invest in foreign stocks. China's crackdown has made investors realize the risks. BABA looks like a risky bet but if you can digest the risk on assumption that China would not go too far in targeting the company, it could be a risk worth taking and the stock should go up long term. Remember Warren Buffett's golden words, "Be greedy when others are fearful."