Is It Too Late to Buy ContextLogic (WISH) Stock Now?
ContextLogic (WISH) stock gained almost 50 percent on June 8 and was trading sharply higher in pre-markets on June 9. After the sharp rise in WISH stock, is it too late to buy it now or does the rally still have wings?
Article continues below advertisement
WISH went public in December 2020 and priced the shares at $24. It closed with losses on the first trading day, which was a rarity in 2020. Airbnb and DoorDash, which also went public in December 2020, soared on listing day. The sharp gains in these two stocks prompted Affirm and Roblox to delay their listings to 2021.
What happened to WISH stock?
WISH stock rose sharply on June 8 since it was among the top discussions on the Reddit group WallStreetBets. The group has been successful in pumping several stocks including AMC Entertainment, Clover Health, and Blackberry.
Article continues below advertisement
WISH stock WallStreetBets
Previously, I noted that WISH stock could soon be on WallStreetBets' radar. The stock had high short interest and was looking undervalued. The stock seemed to have bottomed and has a strong e-commerce story, which is among the most prominent investing themes.
Article continues below advertisement
ContextLogic lawsuit, explained
Several law firms have filed lawsuits against ContextLogic accusing the company of misstating facts in its IPO filings. These suits also point to ContextLogic's poor earnings for the first quarter of 2021. That said, such lawsuits are common after an IPO fails to perform on the stock markets.
ContextLogic stock forecast
According to the data compiled by CNN Business, ContextLogic stock has a median target price of $19, which is a premium of 63 percent over the current prices. Its highest target price is $24. The stock is even trading below its lowest target price of $12. The stock has nine buy ratings and two hold ratings.
Article continues below advertisement
Previously, the stocks that WallStreetBets picked were out of favor with Wall Street analysts. However, in some recent cases, the group has pumped stocks like Clover Health and ContextLogic where even the Wall Street analysts saw a massive upside. However, the markets had a different opinion about these names and they were trading at a big discount to their consensus target prices.
WISH stock is a good investment.
Despite the recent surge, WISH stock looks like a good investment. The stock has a market cap of just over $7.1 billion, while it has around $1.8 billion as cash on its balance sheet. This means an enterprise value of around $5.3 billion.
Article continues below advertisement
Analysts expect ContextLogic to report revenues of $3.2 billion in 2021 and $3.8 billion in 2022. With a 2022 EV-to-EBITDA multiple of 1.4x, the stock still looks attractive. The valuation multiple is less than half of what Amazon trades at.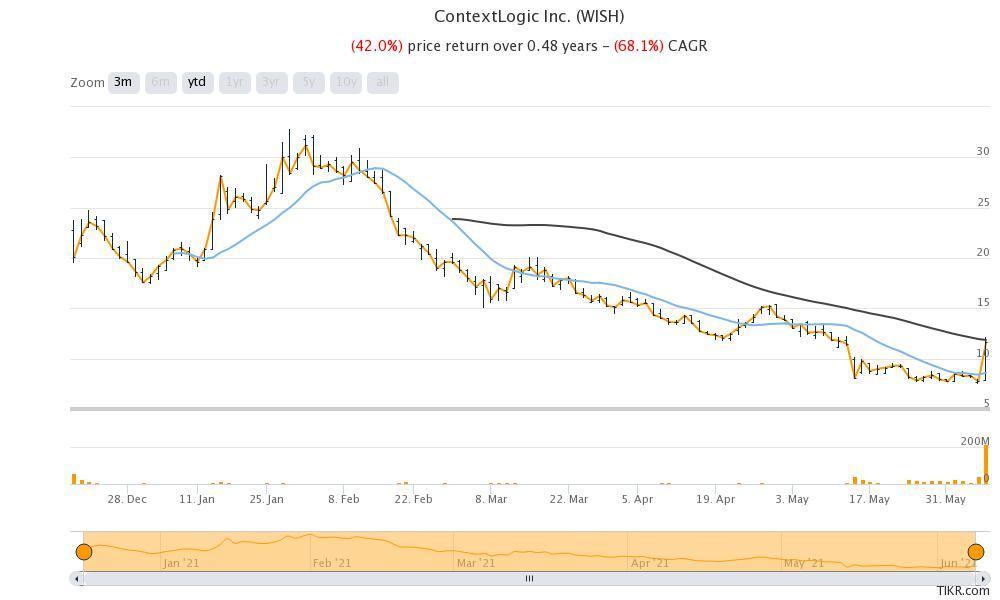 Article continues below advertisement
Should I buy ContextLogic stock?
ContextLogic stock still looks like a good buy. Along with tepid valuations, the stock also has the pumping from WallStreetBets, which can take it even higher. While some of the stocks pumped by WallStreetBets, especially AMC Entertainment, have run ahead of their fundamental values, WISH stock still looks like a buy based on its fundamentals.
From a technical standpoint, WISH stock looks set to cross above its 50-day simple moving average, which is a bullish technical indicator. To sum it up, the stars look well aligned for WISH stock and it could rise higher from these levels.