Forget $1,000, Bulls See Tesla Stock Marching Much Higher
Tesla stock opened higher on April 14. The stock has bounced back from its recent lows and is now trading with YTD gains of over 9 percent even though many EV stocks are in the red. Canaccord Genuity has issued a bullish note on TSLA and expects the stock to rise above $1,000. When will Tesla stock rise above $1,000? Will it beat Apple and become the biggest company by market capitalization?
Article continues below advertisement
First, we should understand that Tesla is among the most polarizing stocks. While pessimists like Ashwath Damodaran and JPMorgan Chase think that the stock is way too overvalued and their target price is a fraction of the current stock price, many analysts see the stock surging even higher from these levels.
Some analysts have a target price of $1,000 or higher on Tesla.
Canaccord Genuity analyst Jed Dorsheimer is the latest entrant among analysts who have a target price above $1,000 on Tesla. He raised his target price on Elon Musk's company to $1,071. Wedbush also has a $1,000 target price on Tesla.
Article continues below advertisement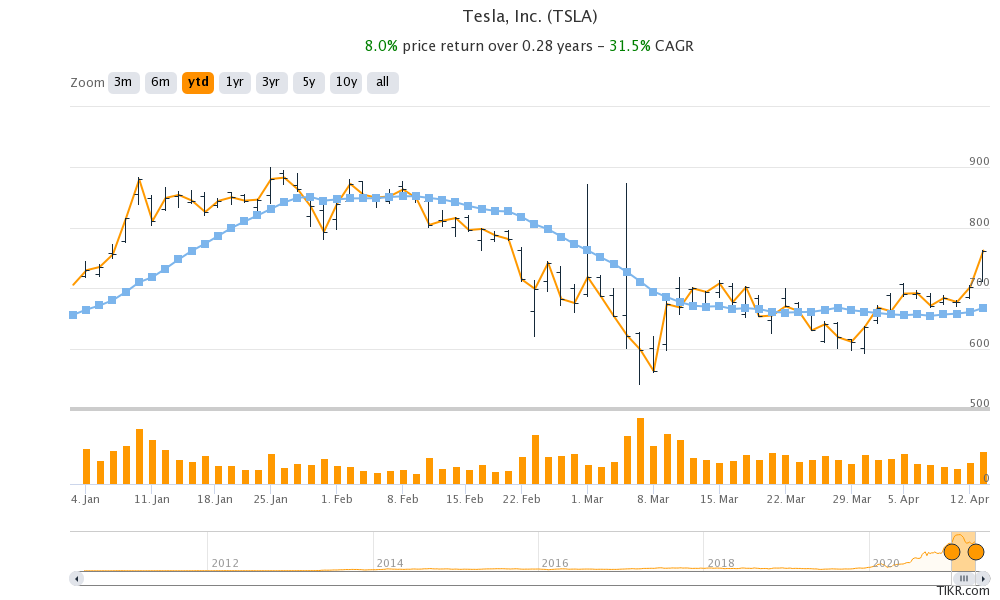 In February, Piper Sandler analyst Alexander Potter assigned a $1,200 target price on Tesla. His target price is the street high for 2021 and is at a premium of 54 percent over the current prices.
Article continues below advertisement
Gene Munster's target price for Tesla
Gene Munster expects Tesla stock to rise to $2,500 by 2023. His target price would imply Tesla's market capitalization surpassing $2 trillion. So far, only Apple's market capitalization has crossed that threshold.
Article continues below advertisement
Cathie Wood's target price on TSLA
Currently, Cathie Wood's ARK Investment Management has set a 2025 $3,000 target price for Tesla. Wood is among the best-known Tesla bulls. So far, Tesla hasn't disappointed her even though the stock is still down from its 52-week highs.
Many analysts have been apprehensive about TSLA's valuations. In the past, even Musk admitted that the stock price is high. However, during the company's earnings call for the fourth quarter of 2020, Musk defended the valuations by pointing to the software abilities, which would lead to higher earnings in the future.
Article continues below advertisement
When will Tesla stock hit $1,000?
Tesla stock hit an all-time high of $900.40 earlier this year. Looking at the current stock price, TSLA needs to rise about 31 percent to surpass $1,000. Tesla's market capitalization would also cross $1 trillion after it surpassed the $1,000 mark.
Article continues below advertisement
Tesla stock is very volatile and tends to see wild price swings in either direction. A 31 percent rally in the stock in 2021 would take the stock beyond $1,000. To put that in perspective, the stock rallied 740 percent in 2020. So, a 30 odd percentage spike sounds small. Looking at the momentum in Tesla stock, I wouldn't be surprised if it hits the $1,000 level sometime in 2021.
Can Tesla beat Apple to become the largest company?
Even if Tesla stock moves above $1,000, it would have a market capitalization of around half of Apple (AAPL). To become the largest company globally, Tesla stock would have to rise to around $2,500, which is what Munster forecasts that the company will hit in 2023. Apple stock might rally more during that period.
Apple is also planning a foray into EVs. Munster, who is bullish on both TSLA and AAPL, sees that as the biggest risk for Tesla. Would I rule out Tesla surpassing Apple to become the biggest company? Definitely not considering the vast army of loyal investors who see Tesla as a cult brand.