SENS Stock Forecast in August, Rise or Fall Depends on Q2 Earnings
By Mohit Oberoi, CFA

Aug. 5 2021, Published 9:44 a.m. ET
Senseonics (SENS) stock traded on a weak note in July and the dismal run has continued in August. The stock is now down 45 percent from its 52-week highs. The company is set to release its earnings on Aug. 9. What's the forecast for SENS stock and will it rise or fall from these levels?
Article continues below advertisement
Senseonics produces the Eversense CGM (continuous glucose monitoring) product that it says is the first implantable device to monitor glucose levels. The market for diabetic care is growing fast and almost a third of U.S. adults have prediabetics. The disease is among the top 10 causes of death in the country.
Senseonics CGM system
The Eversense system is a prescription device that has to be implanted and then removed by a medical professional. The product is currently approved in the U.S. and Europe. However, the implant can only stay in a person for 90 days. At that time, the patient has to visit the medical care professional again for removal and reinsertion.
Article continues below advertisement
Frequent visits to a healthcare professional, which under current approval regulations would be around four per year, can be time-consuming. Senseonics has filed for FDA approval to increase the implant's life to 180 days. If approved, it would cut the need to visit healthcare professionals by half and two visits per year would suffice.
Article continues below advertisement
Senseonics' Q2 earnings
While FDA approval was expected in the first half of 2021, we haven't heard from the company. We'll get more details when the company releases its earnings on Aug. 9. Senseonics might offer insights into FDA approval.
Also, Senseonics might provide an update on its guidance. Previously, the company said that it expects to post revenues between $12 million and $15 million in 2021. The analysts polled by TIKR expect SENS to report revenues of $2.89 million in the second quarter, which is similar to what it did in the sequential quarter.
Article continues below advertisement
SENS stock forecast
Among the seven analysts polled by CNN Business, two rate SENS stock as a buy, while three rate it as a hold. Two analysts have a sell or equivalent rating on the company and its median target price of $2.25 implies a downside of 25.7 percent over the current prices.
Article continues below advertisement
Senseonics has a market cap of around $1.3 billion. It had cash and cash equivalents of $178.6 million at the end of March, while the debt was $110.6 million. This gives us an enterprise value of around $1.23 billion. While SENS stock would look overvalued based on near-term earnings, it looks attractive based on long-term forecasts.
Article continues below advertisement
SENS stock forecast 2025
Senseonics expects to post revenues between $150 million and $200 million in 2025. This would mean 2025 price-to-sales multiple of 7.4x at the midpoint. The company expects to increase the implantable life of Eversense to one year by 2023. If the company can get the FDA approvals to increase the implant life, it will help increase the product's adoption and provide a boost to its stock price.
Will SENS stock rise or fall?
In the near term, management's commentary during the second-quarter earnings call will drive Senseonics' price action. A positive update on Eversense adoption and FDA approval could help the stock rise. In contrast, if the earnings and guidance disappoint, we could see a sell-off in SENS stock.
Article continues below advertisement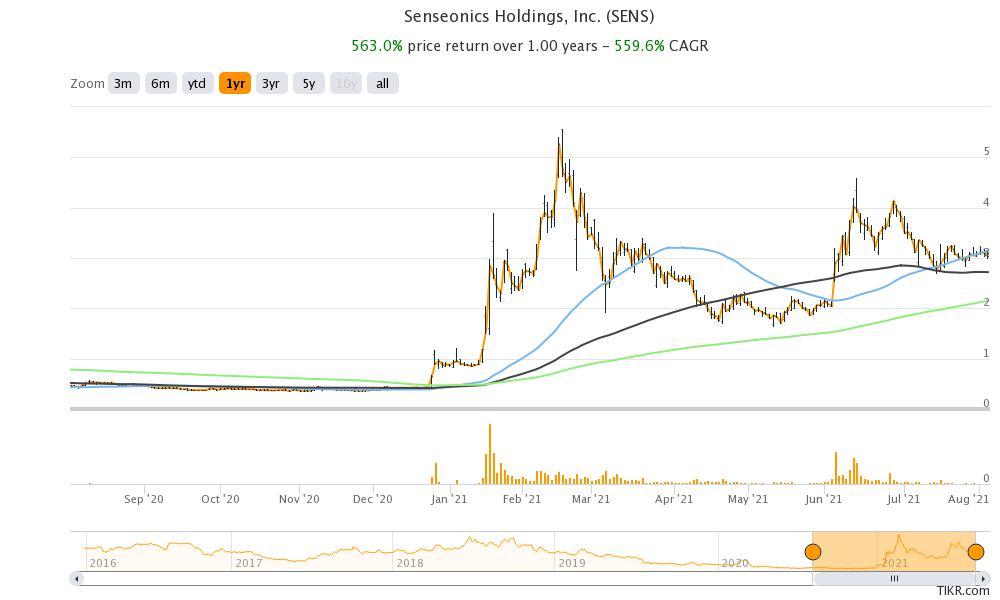 Looking at the technicals, SENS stock has been struggling to cross above the 50-day SMA (simple moving average). It needs to cross above the trendline to signal a new uptrend.