Senseonics Stock Is Speculative, Still a Buy With Good Valuations
Senseonics stock has been very volatile this year. It hit a 52-week high of $5.56 but has since crashed almost 62 percent from the highs. However, it's up 143 percent YTD. What's the forecast for SENS stock in 2021 and is it a good stock to buy now?
Article continues below advertisement
Senseonics produces the Eversense CGM (continuous glucose monitoring). The system has three components. First, a sensor is placed under the skin by a health care professional. The sensor rests under the skin and according to Senseonics, it remains accurate even while working out.
Eversense CGM product
The second component of the Eversense CGM system is the transmitter, which is a smart device worn over the sensor. The transmitter is removable and rechargeable. It sends data every five minutes to the mobile device even when it isn't nearby.
Article continues below advertisement
The third component of Eversense CGM is the mobile app through which the user gets real-time alerts and glucose values. The user can track events like meals and workouts on the app and share them with up to five people.
Article continues below advertisement
Why SENS stock has dropped
SENS stock is down sharply from its highs. The fall is largely due to the sell-off in growth stocks amid the increase in bond yields. Investors have sold off stocks that aren't making many earnings currently and their earnings are skewed towards the future. Also, there has been a sell-off in speculative names.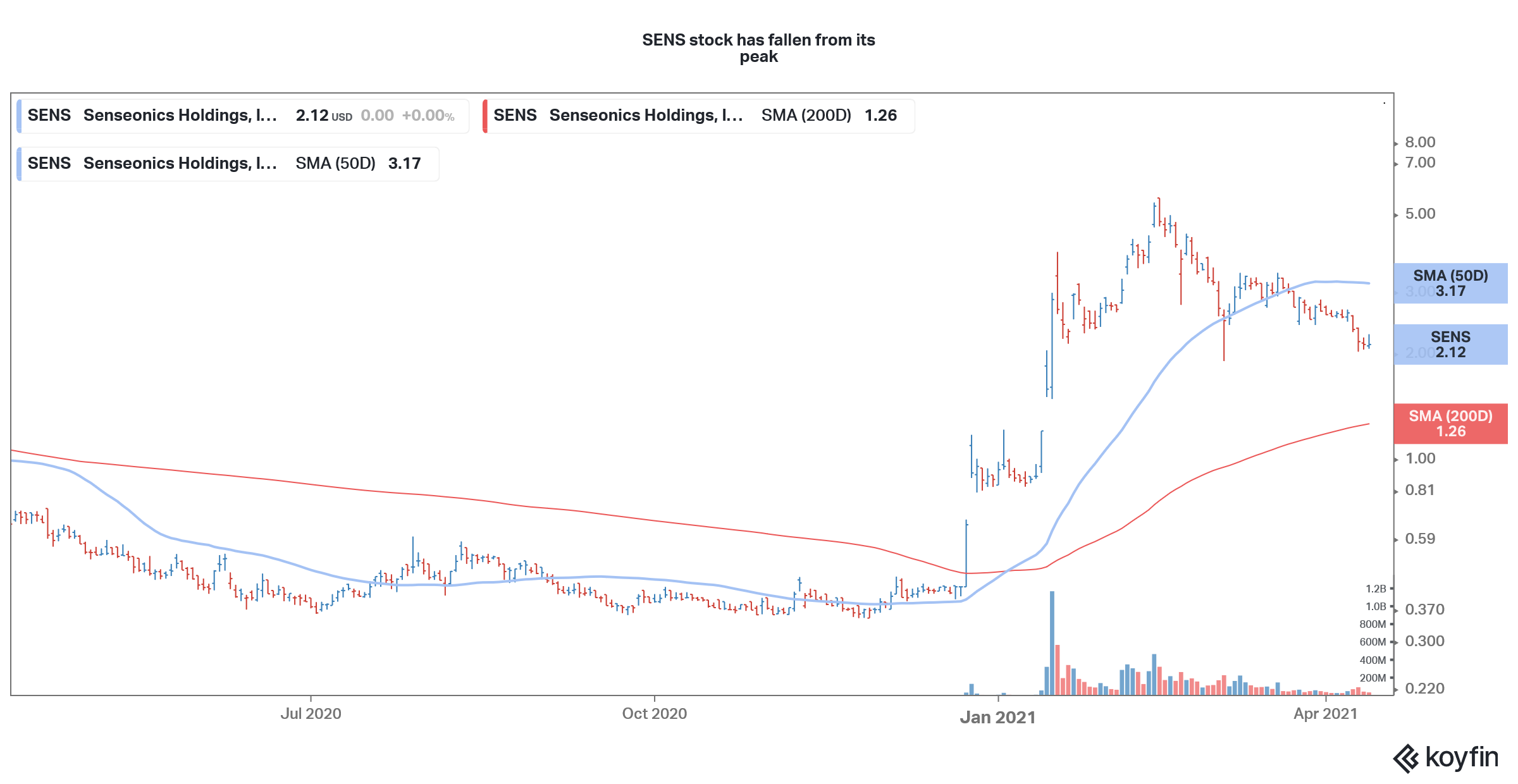 Article continues below advertisement
SENS stock news
Earlier in April, Senseonics released its 2020 earnings and provided the outlook for 2021. The company reported revenues of $4.9 million in 2020 compared to $21.3 million in 2019. Senseonics expects its revenues to be between $12 million and $15 million in 2021. The company reported a net loss of $175.2 million in 2020, which was higher than the $115.5 million that it reported in 2019.
Meanwhile, capitalizing on the rise in its stock price, SENS raised $175 million by issuing shares in the first quarter of 2021. That's a major dilution for a company whose current market capitalization is around $800 million.
Article continues below advertisement
EmblemHealth provided positive coverage for the Senseonics Eversense CGM system. The stock rallied after the news since EmblemHealth is among the largest non-profit health plans in the U.S.
Article continues below advertisement
In February, SENS announced that Ascensia Diabetes Care, its partner in Europe, started sales and marketing efforts in key European markets for the Eversense CGM system.
SENS stock forecast
According to the estimates compiled by CNN Business, SENS has a median target price of $2.75, which is a premium of 30.3 percent over its closing prices on April 14. Its highest target price of $4 is almost a 90 percent premium, while its lowest target price of $0.70 is a discount of 67 percent.
Article continues below advertisement
Two analysts rate the stock as a buy, two rate it as a sell, and three rate it as a hold.
Is SENS a good stock to buy now
SENS stock is down sharply from its peak. The company's outlook depends on the commercial success of its Eversense CGM system. Meanwhile, the product proposition looks good based on increasing diabetic cases globally.
Article continues below advertisement
According to Azoth Analytics, the CGM market was valued at $4.2 billion in 2019 and is expected to increase at a CAGR of 17.24 percent between 2020 and 2025. If Senseonics can gain commercial success globally, the stock can deliver good returns for investors.
Meanwhile, while still speculative, SENS looks like a good stock to buy now after having crashed sharply from its peak. The valuations look reasonable considering the market potential for its CGM system.