SENS Stock Could Go Back Up, Still a Risky Bet for Investors
Senseonics (SENS) is among the meme stocks that were targeted by Reddit group WallStreetBets in 2021. Like all other Reddit names, SENS is also down sharply from the peaks—46 percent to be precise. Will the stock go back up and should you buy it now? Also, will FDA approval for its CGM (continuous glucose monitoring) product have an impact?
Article continues below advertisement
Senseonics produces the Eversense CGM product, which it's trying to commercialize. The Eversense CGM product is an implantable device with three components.
Eversense CGM
The first component is a sensor that's placed under the skin by a healthcare professional.
The second component of the Eversense CGM system is the removable and rechargeable transmitter, which is a smart device worn over the sensor. The transmitter sends data to the mobile device every five minutes. The third component is the mobile app through which the user gets real-time alerts and glucose values.
Article continues below advertisement
Eversense is a prescription device. According to Senseonics, "the system is indicated for use to replace fingerstick blood glucose (BG) measurements for diabetes treatment decisions in the U.S."
Article continues below advertisement
When is SENS FDA approval in 2021?
The product sounds revolutionary. However, one major drawback is that it has to be implanted every 90 days by a healthcare professional. In October 2020, Senseonics applied with the FDA to extend the life to 180 days. The move came after it released the PROMISE clinical study data. The company also released another round of positive data on June 28.
In its release in 2020, Senseonics said that it expects FDA approval in the first half of 2021. However, approval hasn't been received yet. The approval could be a key driver for SENS stock since it would cut the need for doctor visits for CGM implantation from 90 days to 180 days.
Article continues below advertisement
Is it risky to invest in Senseonics stock?
In a previous article, I noted that the risk-reward for SENS doesn't look favorable. Now, with SENS down from those levels, let's revisit the risk-reward scenario. First, Senseonics is a risky stock to invest in. In markets, risk and return tend to go hand in hand. After the fall, it's less risky to invest in SENS stock now than it was at its peak.
Article continues below advertisement
Also, it isn't as risky as clinical-stage companies and is working to commercialize the product. It's making revenues, which have mostly been coming from Europe. In 2021, Senseonics expects to post revenues between $12 million and $15 million.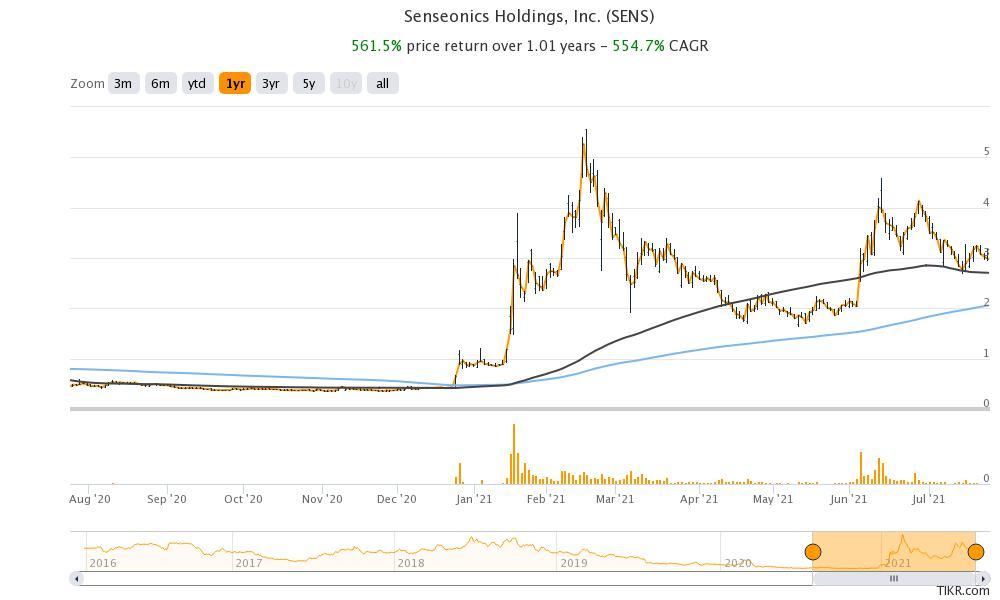 Article continues below advertisement
Will SENS stock go back up?
Senseonics has scheduled its earnings call for the second quarter of 2021 for Aug. 9. Management might provide more updates on the sales trajectory of the Eversense product as well as any new timeline for FDA approval. The stock could go up if management provides an optimistic forecast.
SENS stock recently got added to the Russell 3,000 index. The index added multiple new names including those in the fintech and electric vehicle industry. Getting added to an index helps stocks attract institutional investments.
Article continues below advertisement
The market for diabetic care is growing fast and if SENS can get FDA approval to extend the life of every implant, it will help increase the product's adoption. The sales are low and the near-term earnings don't justify the valuations right now. However, the successful commercialization of Eversense could take SENS stock much higher.
Thanks to the stock sales earlier in 2021, Senseonics has enough cash to grow its business as it works to commercialize Eversense.