Rise in Clover Health Stock Might Lift Other Palihapitiya SPACs
Clover Health (CLOV) stock rose 20 percent on April 16 and opened higher on April 19. Clover Health went public in January through a reverse merger with Chamath Palihapitiya's Social Capital Hedosophia Holdings III (IPOC). Two of Palihapitiya's SPACs (special purpose acquisition company)—IPOD and IPOF—are still hunting for targets. IPOE has announced a merger with fintech company SoFi.
Article continues below advertisement
There has been a massive fall in SPACs associated with Palihapitiya. CLOV has been the worst performer and despite the surge, it's trading at around $10 only, which was the IPO price.
IPOD and IPOF have tumbled
There has been a massive correction in SPACs and many of them have either fallen below the IPO price of $10 or are trading slightly above that level. IPOD and IPOF have fallen 42 percent and 41 percent, respectively, from their 52-week highs.
Article continues below advertisement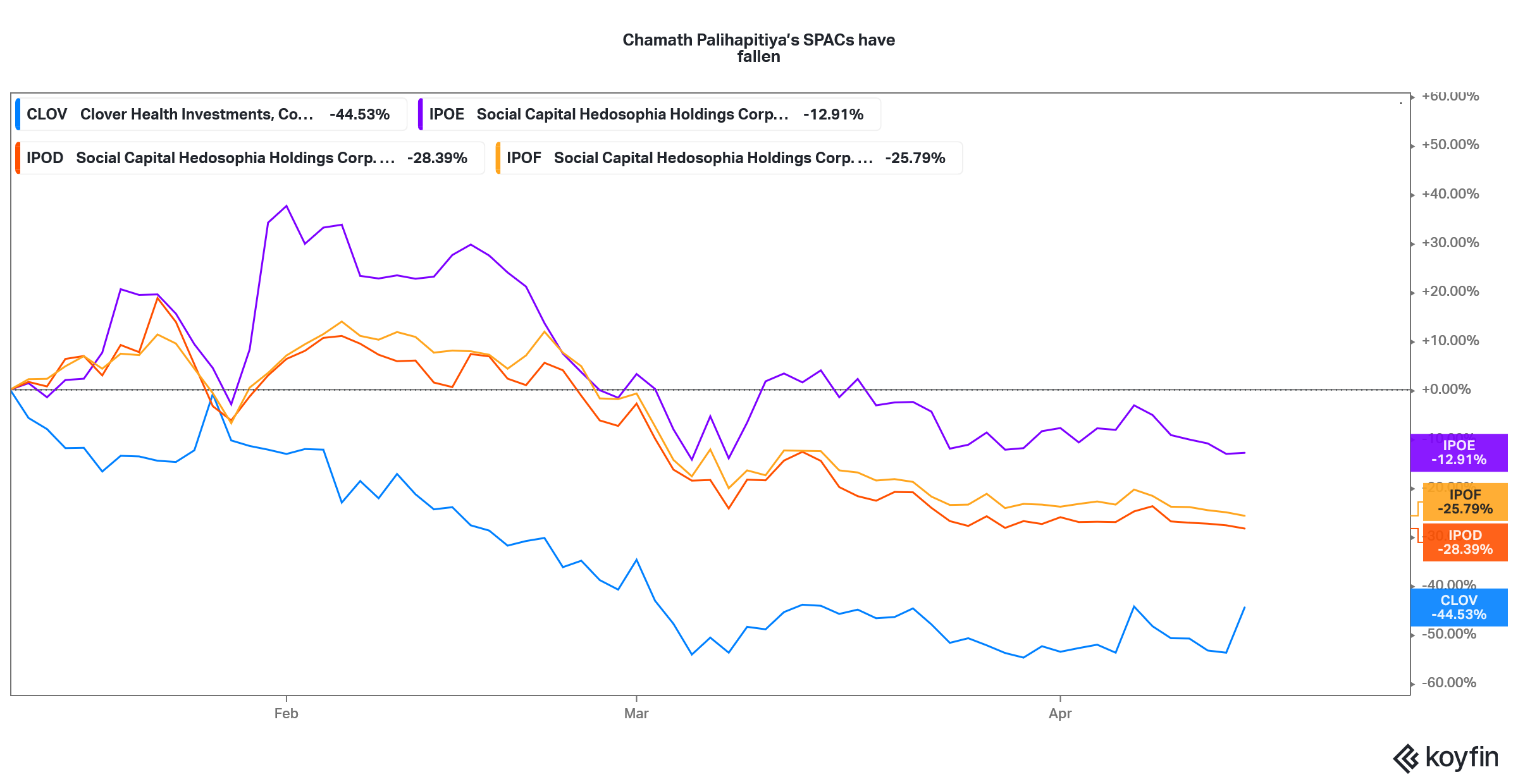 While IPOD is trading at a premium of around 8 percent over the IPO price, the premium for IPOF is around 4 percent. The SPAC euphoria, where some of these so-called blank-check companies traded at a massive premium, has died down.
Article continues below advertisement
To some extent, the steep fall in Churchill Capital IV (CCIV) SPAC after it announced the merger with Lucid Motors, is to blame for the fall in the SPAC universe. CCIV has lost almost two-thirds of its value from the peak and it has made investors apprehensive about bidding up SPACs even before they announce the merger target.
Article continues below advertisement
Why IPOE has dropped
Meanwhile, IPOE has also dropped. While it isn't as speculative as Palihapitiya's other two SPACs since it has a merger target, the stock has fallen amid the sell-off in growth names. Like many of the companies that have announced SPAC mergers, most of SoFi's earnings are skewed towards the future. Thanks to the increase in bond yields, these "future" earnings are less valuable in current dollar terms.
Clover Health stock has also been under pressure
Clover Health stock has been under pressure ever since Hindenburg Research accused the company of hiding material facts from investors. The short-sell report also cast doubts over Palihapitiya's due diligence while identifying the merger target.
Article continues below advertisement
The slide in CLOV stock only reversed recently. Investors are speculating that the stock could be a short-squeeze candidate given its high short interest. The short-squeeze story has played beautifully in stocks like GameStop, AMC Entertainment, and Tilray in 2021.
Article continues below advertisement
Chamath Palihapitiya's reputation
In SPACs, the most important aspect to watch is the sponsors' reputation. Before the Hindenburg episode, Palihapitiya had an almost impeccable reputation and he was even touted as the "next Warren Buffett." Since then, investors have been skeptical, which is visible in the fall in SPACs sponsored by him.
The fall in Palihapitiya's SPACs has been more than what we've seen on an average in other SPACs. That said, his SPACs were on the top of the charts when the SPAC mania was at the peak. The steep fall should be seen in the light of the massive rise.
Article continues below advertisement
Also, Palihapitiya's decision to sell his stake in Virgin Galactic hasn't gone well with a section of the market. The company went public through a merger with one of Palihapitiya's SPAC.
What the rise in CLOV stock means for other Palihapitiya SPACs
Fundamentally, the rise in CLOV stock, led by speculation about a possible short squeeze, doesn't mean anything for Palihapitiya's other SPACs. However, it would help improve the sentiments. CLOV stock falling below $10 was a negative sign and might have kept some investors away from Palihapitiya's SPACs.
Article continues below advertisement
Coming back to his SPACs individually, I think that the fall in IPOE is now overdone and the stock should recover. Bond yields have stabilized and growth stocks and SPACs might recoup some of their losses.
Article continues below advertisement
As for IPOD and IPOF, they still remain speculative before Palihapitiya finds a merger target. However, since both of these SPACs are trading at a small premium to the IPO price, the risk is much lower now unless Palihapitiya really messes up with the merger target.
The crash in CLOV stock was one of the triggers for the fall in other Palihapitiya SPACs. Now, with CLOV stock looking to recoup some of its losses, I would expect the sentiments to improve for IPOD, IPOE, and IPOF as well.