CCIV's Short Interest: Lucid Might Be the Next Short-Seller Killer After Tesla
By Ambrish Shah

Mar. 19 2021, Published 12:02 p.m. ET
Churchill Capital Corp IV (CCIV) is one of the most closely watched SPACs. CCIV stock lost 8.8 percent on March 18 and was trading lower in the after-hours trading session. The stock is down 59 percent from its 52-week high. CCIV is one of the heavily shorted SPACs. So, what's CCIV's short interest telling us?
Article continues below advertisement
The CCIV SPAC is scheduled to take electric vehicle company Lucid Motors public at an implied pro forma equity valuation of $11.75 billion. The blank-check company is led by investment banker Michael Klein. The CCIV and Lucid merger is expected in the second quarter of 2021. On March 16, CNBC's Mad Money host Jim Cramer said that Lucid Motors is the next Tesla.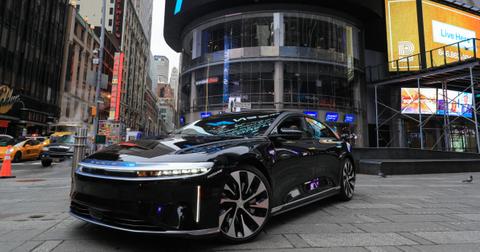 Article continues below advertisement
CCIV's short interest is rising.
CCIV's short interest has increased consistently over the last few weeks. According to Koyfin, CCIV's short interest as a percentage of outstanding shares rose to 5.2 percent on March 18 from 1.8 percent on March 8. This is up from February when the percentage of float shorted was at 0.5 percent.
Short-sellers are increasing their bets against SPACs. S3 Partners reported that the short positions in SPACs more than tripled to around $2.7 billion from $724 million at the beginning of the year. According to a report from The Wall Street Journal, Social Capital Hedosophia Holdings Corp. V (IPOE) SPAC stock has a short interest ratio of 19 percent and could be a popular target for a short squeeze. The IPOE SPAC is backed by venture capitalist Chamath Palihapitiya. IPOE is merging with financial services startup SoFi (Social Finance).
Article continues below advertisement
I do not quite understand the "shocking" nature of my liking $CCIV given that i have liked the Lucid as a great potential competitor of the best stock of the last few years: Tesla. No revelation.

— Jim Cramer (@jimcramer) March 16, 2021
Tesla's short interest
Tesla's short interest has fallen to about 6 percent from nearly 20 percent at the end of 2019. In 2020, Tesla short-sellers lost about $38 billion as the stock price surged significantly. With Tesla stock up around 730 percent in 2020, it was the largest annual mark-to-market loss ever witnessed in any stock. These short-sellers include Jim Chanos—the founder and managing partner of hedge fund Kynikos Associates. In December 2020, Chanos downsized his position in Tesla stock and said that it had been "painful."
Article continues below advertisement
Can Lucid Motors be a short-seller killer like Tesla?
Lucid Motors could be the next short-seller killer since CCIV stock's short interest has risen over the last few weeks. A Reddit user going by the name "u/kalosagatos" said that CCIV stock is the best possible short-squeeze candidate. The user added that it just requires "10k warriors with 500k each" to drive the stock over $100.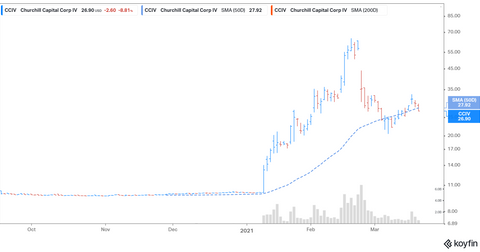 Article continues below advertisement
WallStreetBets could target CCIV SPAC stock.
Individual investors on Reddit group WallStreetBets have been pumping stocks with high short interest ratios, including GameStop, Rocket Companies, and AMC Entertainment. CCIV's high short interest makes it a perfect short-squeeze candidate for WSB as individual investors take on the big hedge funds.
A group of Reddit traders is trying to pump CCIV SPAC stock. A user going by the name "u/MadMax212121" took to the CCIV forum to "defend" the stock from short-sellers and bearish options traders. The post received nearly 8,200 upvotes and 6,900 comments. The post called CCIV stock "heavily shorted." Investors should note that hedge funds own over 55 percent of CCIV shares.