NIO Stock Forecast: Reddit's WallStreetBets Might Take It to the Moon
By Mohit Oberoi, CFA

Jul. 2 2021, Published 8:26 a.m. ET
Chinese electric vehicle maker NIO (NIO) is getting popular on Reddit groups. It's among the top discussion topics on WallStreetBets. The group has liked EV (electric vehicle) stocks. Workhorse, Tesla, Fisker, and Nikola are some of the EV names that have been featured among the top discussion topics on the subreddit. What's the forecast for NIO stock as Reddit traders take interest in the company?
Article continues below advertisement
NIO stock has been on an uptrend. The stock was about to test the $30 price level in May but has since rebounded. There has been an uptrend in all of the EV stocks including Tesla, which has helped buoy the sentiments. Churchill Capital IV (IV), which will merge with Lucid Motors later in July, has also rebounded from the lows.
NIO reported better-than-expected deliveries
NIO delivered 8,083 electric cars in June, which was a new monthly record for the company. It delivered a total of 21,896 vehicles in the second quarter, which was ahead of its guidance. Cumulatively, NIO has delivered 117,597 electric cars as of June 30.
Article continues below advertisement
To put that in context, Tesla has delivered over 1 million cars cumulatively. The company looks on track to reach an annual rate of over 1 million cars in 2022.
Article continues below advertisement
NIO stock on Reddit
NIO stock is very popular on social media groups and there's a separate subreddit with almost 37,000 members to discuss the company. A post in the group talked about the possibility of NIO stock rising to $400. This would mean NIO commanding a market capitalization of over $650 billion, which is similar to Tesla's current market cap.
NIO stock is gaining traction on WallStreetBets.
NIO's better-than-expected June deliveries are featuring prominently on the WallStreetBets discussion. Historically, NIO has provided conservative guidance and eventually ends up delivering more cars than it had forecast.
Article continues below advertisement
A post on WallStreetBets said that the rally in NIO stock could just be starting. A user with over 173,000 "comment karmas" said that the stock could be worth $100. While the $400 price prediction for NIO looks like just an arbitrary number, a $100 price level could very much be in the cards.
Article continues below advertisement
NIO stock target price
NIO has a median target price of $59.13. Daiwa has a street-high target price of $92 for the stock, which isn't very far away from the $100 price level that many Reddit traders and bullish investors are aiming for.
Article continues below advertisement
Currently, there's strong momentum in NIO stock. The stock looks bullish on the charts and has crossed above the 50-day, 100-day, and 200-day SMA (simple moving average). From a valuation perspective, one argument will be that the stock looks expensive since its market cap is comparable to General Motors.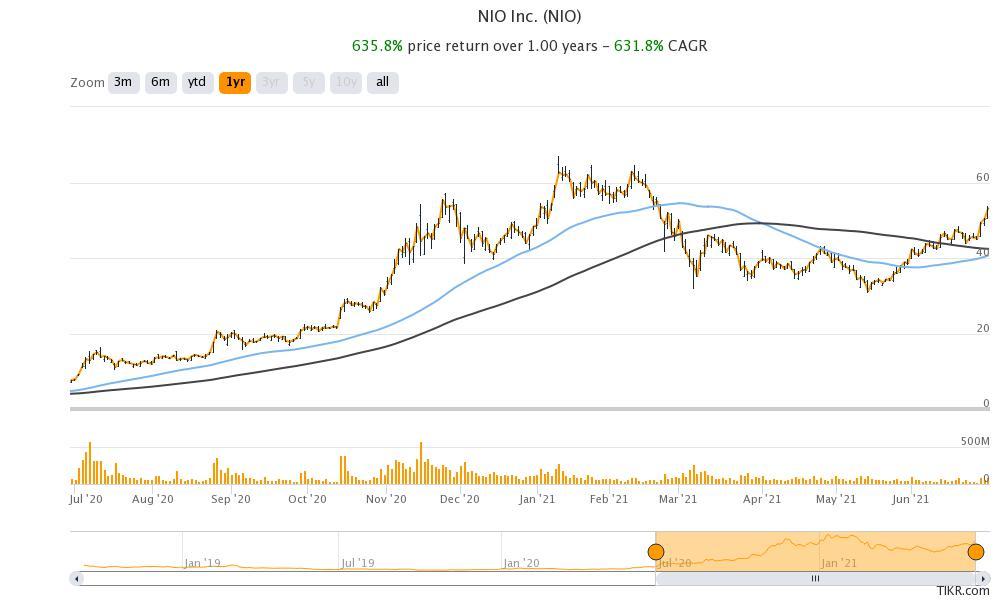 General Motors plans to sell a million EVs by 2025, which could be higher than what NIO sells in that year. However, investors have been willing to pay "tech-like" valuations for EV stocks. The momentum is looking strong for NIO stock and the upcoming NIO Power Day next week could help buoy sentiments more.