QuantumScape (QS) Stock Looks Like a Good Buy, Should Recover Soon
On April 19, QuantumScape (QS) stock fell 11 percent and closed at $31.62. The stock has fallen by more than 25 percent over the last five trading days after Scorpion Capital published a scathing short report on QuantumScape. So, has QS stock bottomed out and will it recover now?
Article continues below advertisement
Article continues below advertisement
Founded in 2010, QuantumScape builds solid-state lithium metal batteries for use in electric vehicles. The company went public in November 2020 through a reverse merger with Kensington Capital Acquisition SPAC. QuantumScape is backed by Bill Gates and Volkswagen.
Article continues below advertisement
QuantumScape stock is falling.
QuantumScape stock has been volatile since it went public late last year. QS stock has fallen 76.2 percent from its 52-week high of $132.73. So far, the stock has fallen nearly 30 percent in April 2021, while the S&P 500 has risen 4.8 percent. QS stock plunged after the short-seller Scorpion Capital released a 188-page study questioning the company's claims regarding the efficiency of its batteries. The rise in interest rates has also made high-growth EV stocks less attractive to investors, which impacts QuantumScape.
Is QuantumScape a pump-and-dump scam?
Scorpion Capital claimed that QuantumScape is nothing more than a pump-and-dump SPAC scam. The short-seller thinks that the company's statements about its battery technology are false and that it deceived investors. The study is based on interviews with former QuantumScape executives, battery experts, and current Volkswagen staff working on the automaker's electric vehicle battery efforts. In the end, Scorpion Capital compared QuantumScape to Theranos.
Article continues below advertisement
Article continues below advertisement
QuantumScape denied Scorpion's accusations and said that the short-seller has a financial incentive to see the share price fall. Nikola and Lordstown Motors have also faced accusations from short-sellers. In both cases, the companies disputed the claims.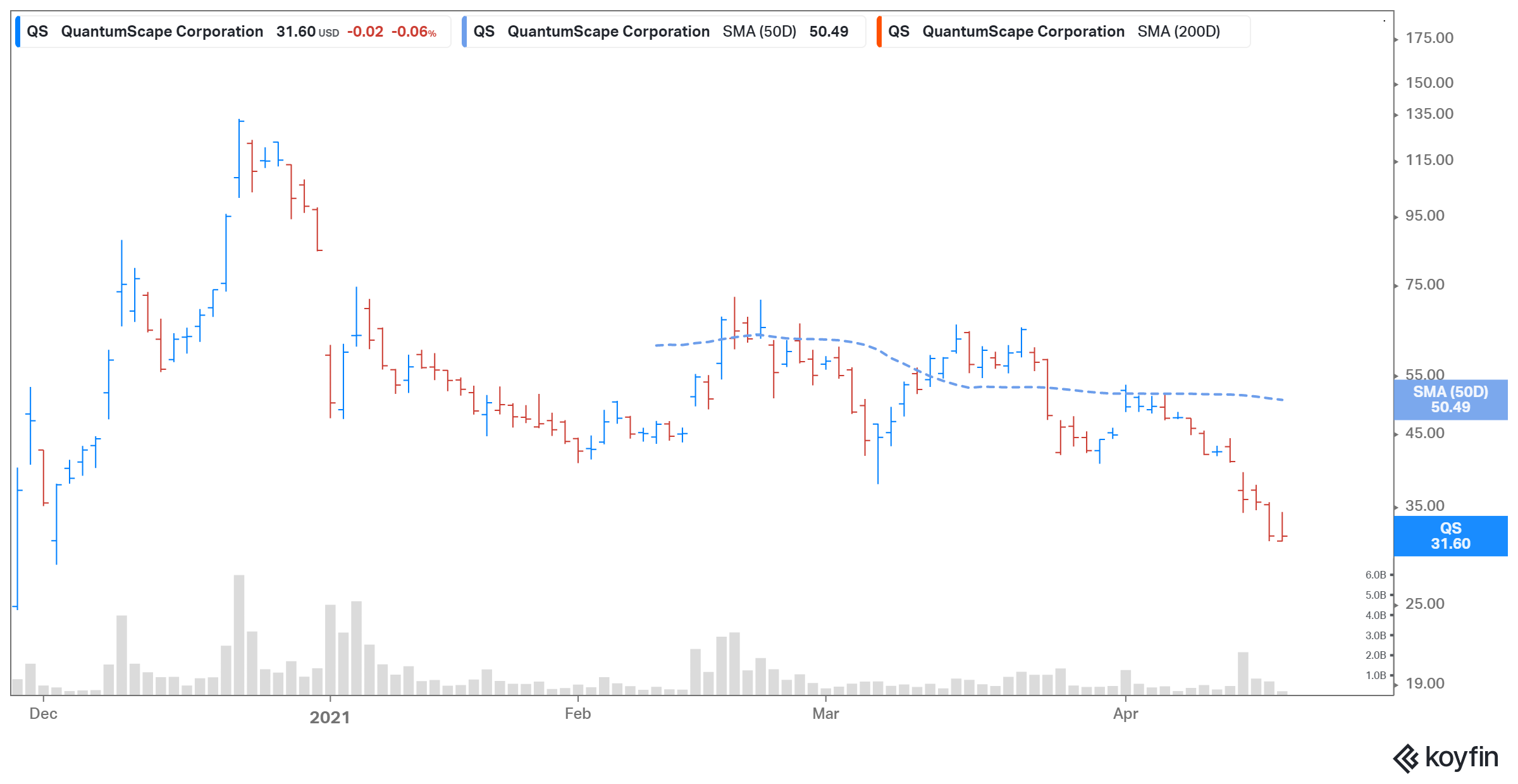 Article continues below advertisement
QuantumScape stock bottomed out
In my view, we are done with the sell-off and QuantumScape stock might recover now. On April 20 as of 10:12 a.m. ET, QuantumScape was up nearly 5 percent at $33.13.
Article continues below advertisement
QuantumScape stock will recover
The future of QuantumScape stock looks very bright for patient investors. Although QuantumScape is still a few years away from reporting any revenues, investors in businesses like these must have a very long investment horizon. The company expects to report total revenue of $14 million in 2024. QuantumScape expects the number to grow to $39 million in 2025 and $6.4 billion in 2028. The company also expects to report an adjusted EBITDA of $808 million in 2027.
Article continues below advertisement
QuantumScape is a good stock to buy now.
QuantumScape builds scalable solid-state batteries that charge quickly and lower costs for EVs. Also, the batteries have a longer life than existing liquid state batteries. QuantumScape has partnered with Volkswagen, which has invested about $300 million in QuantumScape over the last few years.
QuantumScape is expected to benefit as the adoption of electric cars grows. The global solid-state battery market opportunity is expected to rise from $32.9 billion in 2019 to $87.5 billion in 2027. The fall in QuantumScape stock has made it look attractive for long-term investors.