Best Value Stocks to Buy Now Amid the 2022 Stock Market Crash
So far, U.S. stocks have crashed in 2022 amid economic uncertainty and rising interest rates. Growth stocks have especially looked weak and some of them have started to appear cheap. Over the last year, investors have been pivoting towards value stocks. Value investing outperformed in 2021 after years of underperforming growth investing.
Article continues below advertisement
Berkshire Hathaway, whose chairman Warren Buffett personifies value investing, also underperformed the S&P 500 by double digits in 2019 and 2020. It isn't often that we see the "Oracle of Omaha" underperform the markets by that quantum. However, the stock outperformed in 2021. The pivot towards value stocks has continued in 2022 and value stocks, in general, are outperforming growth stocks. Here are the best value stocks that you can buy in 2022.
What are value stocks?
Value stocks trade at a lower valuation than they should, based on their fundamentals. We can use any metric which can be asset-based, earnings-based, or comparative valuations to judge whether a stock is undervalued. You have to be wary of "value traps" as some stocks are cheap for a reason and continue to get "cheaper" and erode investors' wealth.
Article continues below advertisement
Why buy value stocks now?
Value stocks look like a good investment now, especially since the stock markets have crashed and at least the near-term forecast looks cloudy. Amid rising rates, the valuations of some of the growth stocks still look ugly.
Article continues below advertisement
Investors have been shying away from investing in loss-making companies. Instead, they have been looking at mature and profitable businesses with proven and strong business models that can survive the economic downturn. A lot of value stocks would fit into that definition.
Article continues below advertisement
There are three value stocks for investors to buy in 2022.
Three value stocks look like good buys in 2022. The stocks include:
Berkshire Hathaway
Meta Platforms
Citigroup
Berkshire Hathaway stock looks like a good buy in 2022.
Berkshire Hathaway stock is up 3.2 percent in 2022 and hit its all-time high even as the S&P 500 neared a bear market territory. Buffett has started to put the conglomerate's cash pile to work, which is making markets bullish. Buffett sees value in the stock and Berkshire has repurchased almost $50 billion worth of its shares between 2020 and 2021.
Article continues below advertisement
While the company's buybacks fell to $3.2 billion in the first quarter of 2022, it was also likely because Buffett deployed the cash to buy stocks. Berkshire is a complex conglomerate holding companies as diverse as energy, candies, aircraft parts, and insurance.
Article continues below advertisement
It also has a portfolio of publicly traded securities that are valued in excess of $330 billion, with Apple as the top holding. Berkshire stock looks like a good value buy and might continue to outperform the S&P 500 as markets discover the value in "boring" yet hugely profitable businesses like Berkshire.
Article continues below advertisement
Meta Platforms is another beaten-down value stock.
Only about a year ago, you would have scoffed at the idea of a FAANG stock being categorized as a value stock. The coveted group of five stocks represented large tech names that were witnessing strong growth and investors were ready to pay premium valuations for them.
Things have turned upside down for at least three FAANG stocks — Netflix, Meta Platforms, and Amazon. Netflix looks like a dusted growth story, while Amazon stock doesn't appear to be a value stock.
Article continues below advertisement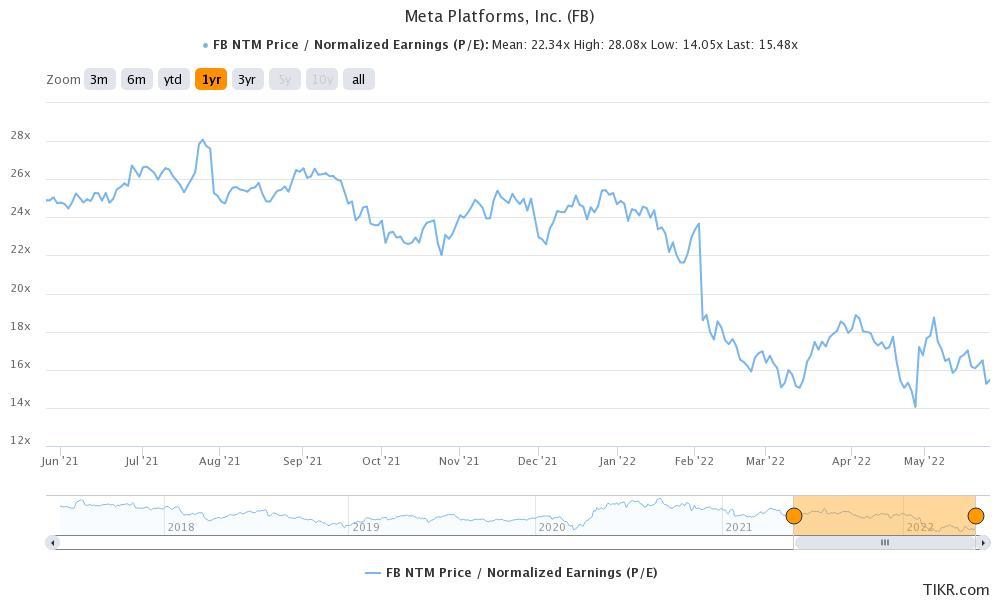 Meta Platforms looks like a value stock worth considering at an NTM PE multiple of 15.5x, which is even below that of the S&P 500. To be sure, the business faces several headwinds including Apple iPhone privacy rules, the slowdown in ad spending, and what looks like a peaked user base.
Article continues below advertisement
That said, the company's current businesses and future ventures like metaverse seem out of sync with the low valuations. Overall, Meta Platforms looks like one value stock that you can buy in 2022.
Article continues below advertisement
Citigroup looks like a value stock in the banking industry.
Citigroup stock has been a perennial underperformer and is down 15 percent over the last five years. It saw negative price action in 2021 also even as banking stocks outperformed. After the long underperformance, the stock looks like a value play in the banking industry and even Berkshire Hathaway opened a new position in the stock in the first quarter of 2022.
Citigroup is transforming its business and is exiting several markets to focus the synergies on businesses where it's already strong. It reported a tangible book value per share of $79.03 at the end of March. Based on the current stock price, we get a price-to-tangible book value of around 0.67x. Usually, banks are undervalued when the multiple is below 1.
Article continues below advertisement
Citigroup looks cheap on earnings-based multiples also and its NTM PE multiple of just 7.7x, which is lower than its peers. If the bank delivers on its transformation plan, it should see a valuation multiple rerating, which could take the stock higher.