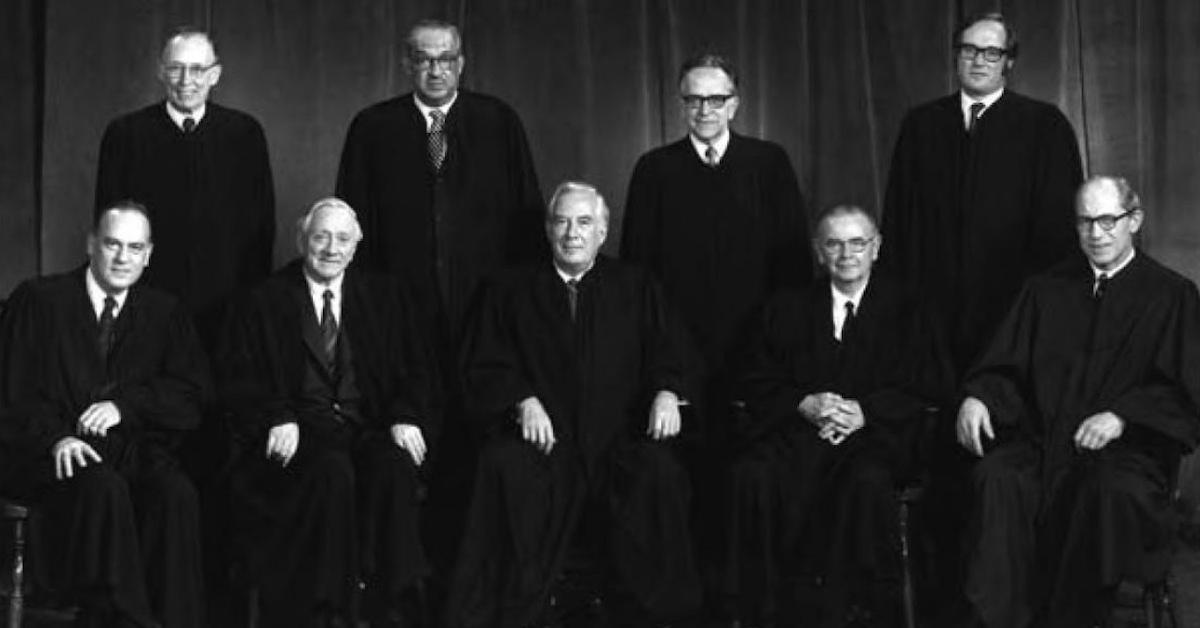 Who Are the Supreme Court Justices Who Decided Roe v. Wade?
With a leaked draft opinion signaling that the U.S. Supreme Court, led by Chief Justice John Roberts, is poised to overrule Roe v. Wade, the landmark abortion rights decision will likely not reach its 50th anniversary next year.
In 1973, a 7-2 ruling by Chief Justice Warren E. Burger's court, ruled that states could not prohibit abortion within the first trimester and that restrictions in the second and third trimester must take into account the health of the pregnant individual.
Article continues below advertisement
Article continues below advertisement
The decision has been the subject of much controversy over the past few decades, but many know very little about the 1973 Supreme Court justices who made the ruling.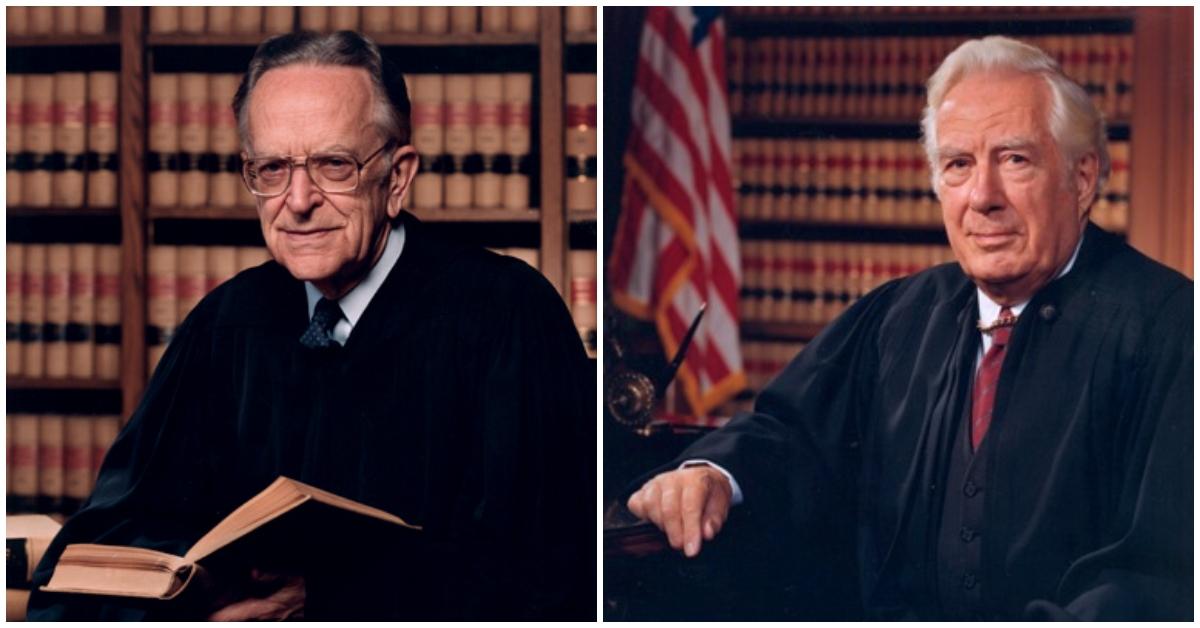 Article continues below advertisement
Seven of the 9 judges on Burger's 1973 Supreme Court bench ruled abortion was constitutionally protected.
The monumental decision was written by Justice Harry Blackmun and joined by six other justices:
Warren E. Burger (Chief Justice)
William O. Douglas ·
William J. Brennan Jr.
Potter Stewart
Thurgood Marshall
Lewis F. Powell Jr.
Though Blackmun wrote the majority opinion, Associate Justices Burger, Douglas, and Stewart filed concurring opinions.
Associate Justices Byron White and William Renquist dissented. Renquist joined White's dissenting opinion, and also filed his own separate dissent.
Article continues below advertisement
Article continues below advertisement
What were the political affiliations of the 1973 Supreme Court?
Though many people believe a "liberal" court decided Roe, four of the justices on Burger's court, including Burger himself, were nominated by Richard Nixon. Of those four, one wrote the majority opinion, two concurred, and one dissented. Of the nine justices on the court at the time, three were nominated by Democrats and 6 by Republicans.
Chief Justice Burger
Burger was nominated in 1969 by Richard Nixon upon the retirement of previous Chief Justice Earl Warren. Burger's confirmation was nothing like the grueling spectacles we have seen in recent years. His Senate Judiciary hearing was reportedly less than two hours long and after a 5-minute vote, the committee voted unanimously to put the nomination forward for a vote by the full body. By a 73-4 vote, Burger was confirmed on June 9, 1969, and sworn in on June 23.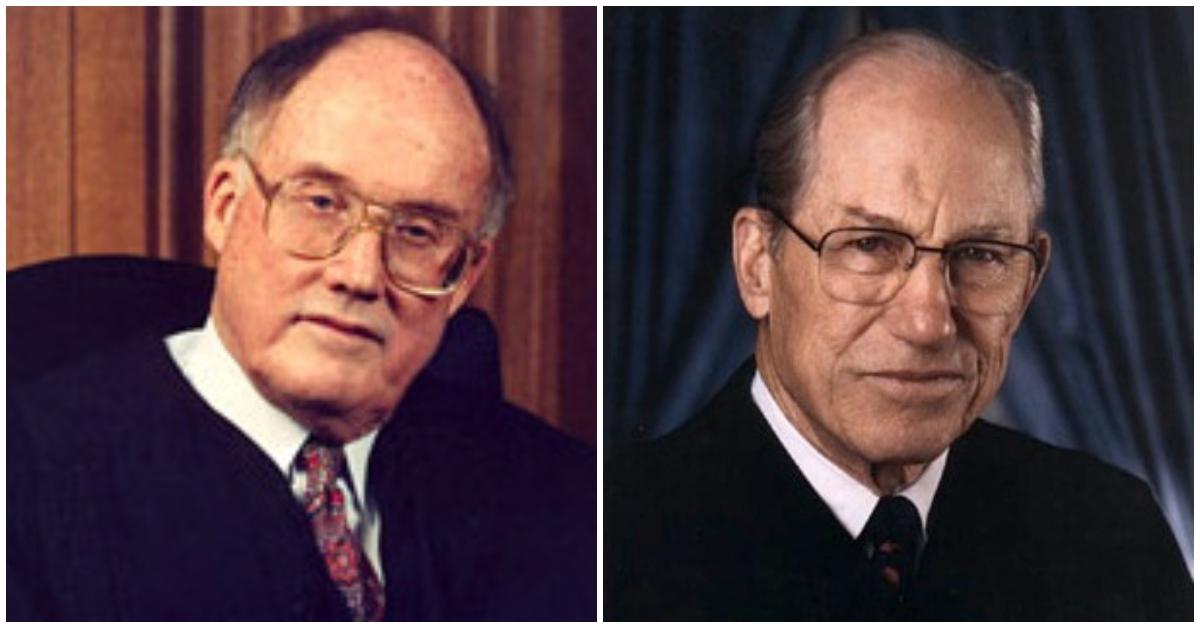 Article continues below advertisement
Despite being nominated by Nixon, Burger would go on to write the unanimous U.S. v. Nixon decision that led to the disgraced president's resignation.
Burger was a lifelong Republican and held some rather conservative views, particularly on homosexuality, and he dissented in another abortion case, Thornburgh v. American College of Obstetricians & Gynecologists, the majority decision of which found abortion restrictions such as 24-hour waiting periods were too obstructive.
Article continues below advertisement
Harry Blackmun
Justice Blackmun was also a lifelong Republican and a Nixon nominee. He had an even easier ascension to the court than Burger, with a 94-0 Senate vote in 1970. Blackmun replaced Abe Fortas, who resigned from the court in 1969 amid threats of impeachment over an ethics scandal.
However, Blackmun wasn't Nixon's first or even second choice for the seat. Two previous nominees, Clement Haynsworth and G. Harrold Carswell failed to pass a Senate vote due to their pro-segregation leanings.
Article continues below advertisement
Though Blackmun and Burger seemed joined at the hip at the start of their periods on the bench, they drifted apart ideologically. Blackmun tended toward opinions that now would be considered liberal, though he remained a Republican until his death in 1999.
William J. Brennan Jr.
Brennan was appointed by Eisenhower in 1958 in a recess appointment shortly before he was re-elected to a second term. His Senate Judiciary Committee hearing had some controversy because Senator Joseph McCarthy took exception to Brennan calling anti-Communist investigations "witch hunts" — thereby inferring Sen. McCarthy, who led the sensational Army-McCarthy Senate hearings, was a witch hunter.
Brennan is regarded as a liberal judge, particularly on First Amendment rights and individual rights.
Article continues below advertisement
Article continues below advertisement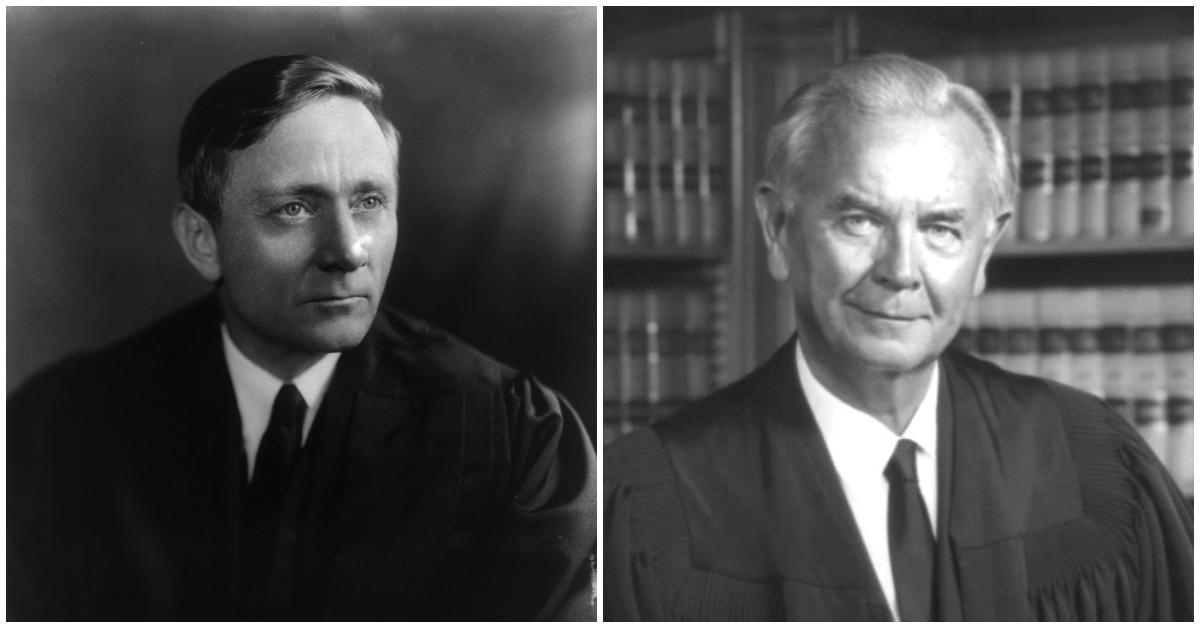 William O. Douglas
Douglas was the longest-serving judge in the Roe decision, having been nominated by Franklin D. Roosevelt in 1939. He is regarded by some as the most liberal judge to serve on the Supreme Court, and he faced two unsuccessful impeachment attempts by conservative lawmakers. He served until retiring in 1975 and was succeeded by John Paul Stevens (who was succeeded by Elena Kagan upon his retirement in 2010).
Article continues below advertisement
Thurgood Marshall
Marshall is the first Black justice to serve on the Supreme Court and was nominated by Democrat Lyndon B. Johnson in 1967. The Senate Judiciary Committee voted 11-5 in favor of the nomination and he was confirmed by the full Senate in a 69-11 with 20 Senators voting present or abstaining. Marshall is considered one of the more progressive justices to serve on the Court. He retired in 1991 due to poor health with regret, knowing then-president George H.W. Bush would nominate a more conservative judge. He was replaced by Clarence Thomas.
In a nod to another historic first, Vice President Kamala Harris, the first woman and the first person of African-American and Asian descent elected to the executive office asked to be sworn in on a Bible that belonged to Marshall.
Article continues below advertisement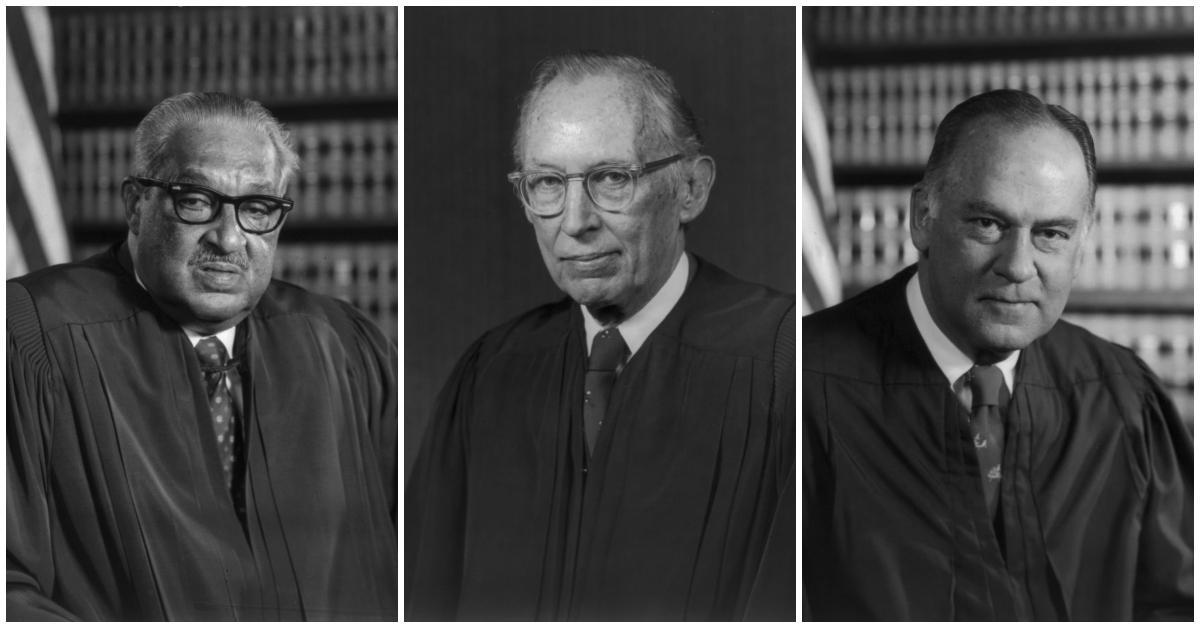 Article continues below advertisement
Lewis F. Powell Jr.
Powell was another Nixon nominee but was himself affiliated with the Democratic Party. He and Justice Renquist were nominated on the same day to replace Hugo Black and John Marshall Harlan II, respectively, who died within months of each other in 1971. Powell was regarded as a powerful swing voter on the court, so it is fitting that he was succeeded by another swing voter, Anthony Kennedy, when he retired in 1987. (Kennedy was succeeded upon his retirement by Justice Brett Kavanaugh in 2018.)
William H. Rehnquist
Renquist, Nixon's fourth and last nomination, and regarded as his most conservative judicial nominee. He also had the most controversial confirmation, with a 68–26 vote confirming his appointment. He was sworn in the same day as Powell as well as having been nominated on the same day. Ronald Reagan nominated Rehnquist to succeed Burger as Chief Justice in 1986,
Article continues below advertisement
Article continues below advertisement
Potter Stewart
Stewart joined the Supreme Court in 1958 by recess appointment by Dwight D. Eisenhower. His successor, Harold Hitz Burton II, resigned due to Parkinson's disease complications Stewart was confirmed in 1959 after a formal nomination and full Senate vote of 70–17. Stewart is regarded as a judicial moderate, with a strong stance on criminal justice matters and a more liberal stance on personal and civil liberties. He is probably most famous for his opinion in an obscenity case in which he said that hardcore pornography is difficult to define but "I know it when I see it."
Byron White
White was nominated by John F. Kennedy and confirmed by a voice vote. Like Kennedy, he was a Democrat and a Catholic, and his religious beliefs seemed to have factored in his dissent in Roe v. Wade. He was succeeded by Ruth Bader Ginsburg upon his retirement in 1993, who was replaced following her death in 2020 by Justice Amy Coney Barrett.