Are Funko Pops a Good Investment? Select Characters Are Worth Thousands
Funko Pops have been around for quite some time — they were released in 2011 — and have become a favorite figurine in many households. While most of the giant-headed replicas of beloved TV characters and actors sell from anywhere between $12 to $30, some Funko Pops retail for even higher depending on their rarity level.
Article continues below advertisement
Article continues below advertisement
Although it's evident Funko Pops are fun to collect, many often wonder if they are a good investment. Given how popular these collectible pop culture figurines have become, we decided to explore how valuable they are and the likelihood of you seeing a return on your investment should you decide to buy them.
Are Funko Pops a good investment?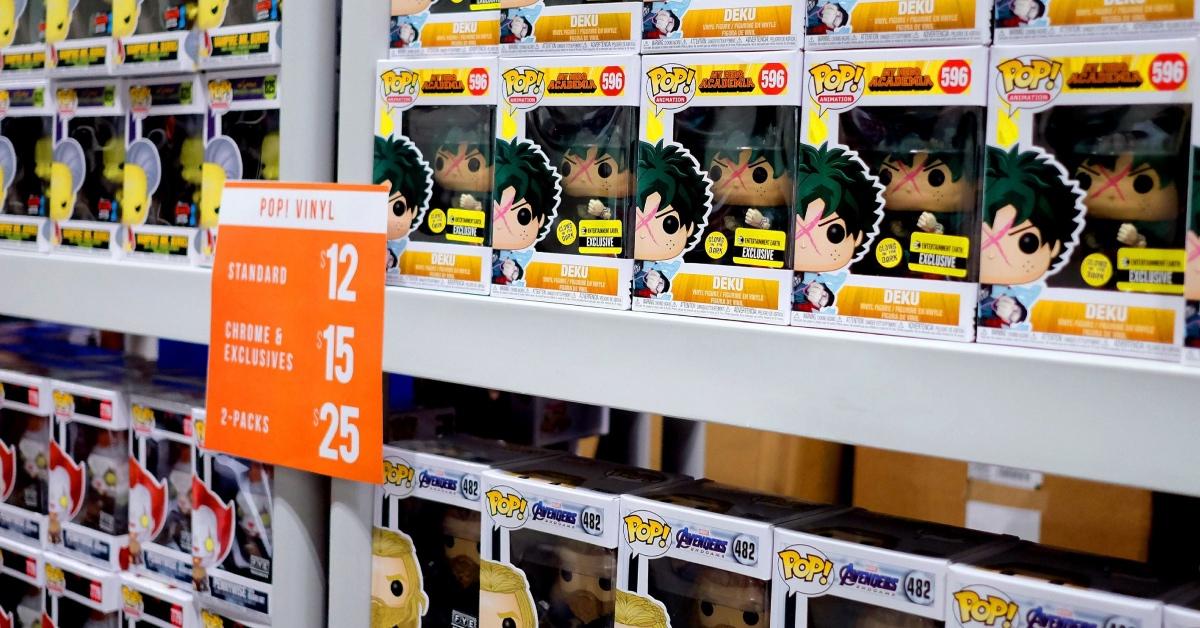 Many people have developed an obsession with Funko Pops and for good reason. They're cute, affordable, and make you feel good about owning a tangible item that represents your favorite fictional character or actress. But are they a good investment?
Article continues below advertisement
Currently, only select Funko Pops are worth more than what they initially sold for. But that could change in the future. Consider how much certain Beanie Babies, vintage Barbies, and Happy Meal toys from McDonald's are now selling for — a fortune! But it took time for them to rise in value.
The same could happen with Funko Pops, especially if a character is wiped from a cast or an actress suddenly passes away (God forbid).
Which Funko Pops are valuable?
There are a handful of Funko Pops that are currently worth much more than their retail price. According to Nasdaq, these are some of the most valuable Funko Pops today:
Clockwork Orange, the lead character in the film A Clockwork Orange. The Pop sells for anywhere between $25,470 and $26,060, and even higher for the glow-in-the-dark version.
Freddy Funko/Count Chocula (Glow in the Dark). The Pop was introduced in 2011 and carries an estimated value of $11,000.
Article continues below advertisement
Article continues below advertisement
The Metallic Stan Lee Pop fitted in the red superhero outfit that was offered at the 2017 Los Angeles Comic-Con is said to be worth around $7,570.
Dumbo (Clown). After debuting in 2013, the Dumbo clown Funko Pop quickly grew in popularity and is now supposedly worth a whopping $6,640.
Freddy Funko (Freddy Krueger). Films featuring Freddy Krueger and Pops replicating him have a lot in common — they are both widely popular. According to Nasdaq, these particular Funko Pops are worth about $6,060.
Article continues below advertisement
Are Funko Pops worth collecting?
If collecting Funko Pops brings you joy, then that alone makes them worth collecting. Your collection might also allow you to capitalize on your "investment" should the Pops you have increase in value in the future.
Article continues below advertisement
A lot of eight Marvel-themed Funko Pops recently sold on eBay for $79.99. Another, which contained four Big Bang Theory Funko Pops (the Star Trek Transport series 73, 74, 75, and 76) also sold on eBay for $430.
Article continues below advertisement
Here's how to invest in Funko Pops.
Funko Pops are owned by Funko, a pop culture lifestyle brand that was founded in March 1998. Since its inception, Funko has grown tremendously and signed licensing deals with top companies including Nickelodeon, Warner Bros., Marvel, and Major League Baseball (MLB).
In 2021, Funko hit $1 billion in sales and has continued to dominate the toy market. For those who would like to invest in Funko Pops, they can do so by purchasing shares of Funko stock. On Jan. 23, 2023, Funko stock (Nasdaq: FNKO) was trading at $11.84 per share, a bit lower than what it was trading in mid-2022.
Despite this, Funko has gradually watched its revenue grow each year, making it a potential option for those looking to invest in the company.