Here Are the Beanie Babies Worth Reselling in 2022
Years ago, many people bought Beanie Babies and hoped that the toys would be worth a lot of money in the future. Are Beanie Babies worth anything in 2022?
A recent estate sale in Illinois offered up over 2,000 Beanie Babies. Representatives from the company holding the sale said they found Beanie Babies in every nook and cranny of the house.
At the peak of the Beanie Babies craze in the mid-90s, it was predicted that the plush toys would be worth hundreds, even thousands of dollars, prompting many to start collecting, and eventually reselling them.
Article continues below advertisement
Article continues below advertisement
The Beanie Babies hype not only made its creator, Ty Warner, extremely wealthy (his net worth is estimated at $4 billion) but, at one point, sales of the stuffed bears made up 10 percent of eBay's sales.
So, fast forward two decades, what are Beanie Babies worth — and are they the collector's items they were predicted to be?
Are Beanie Babies worth anything in 2022?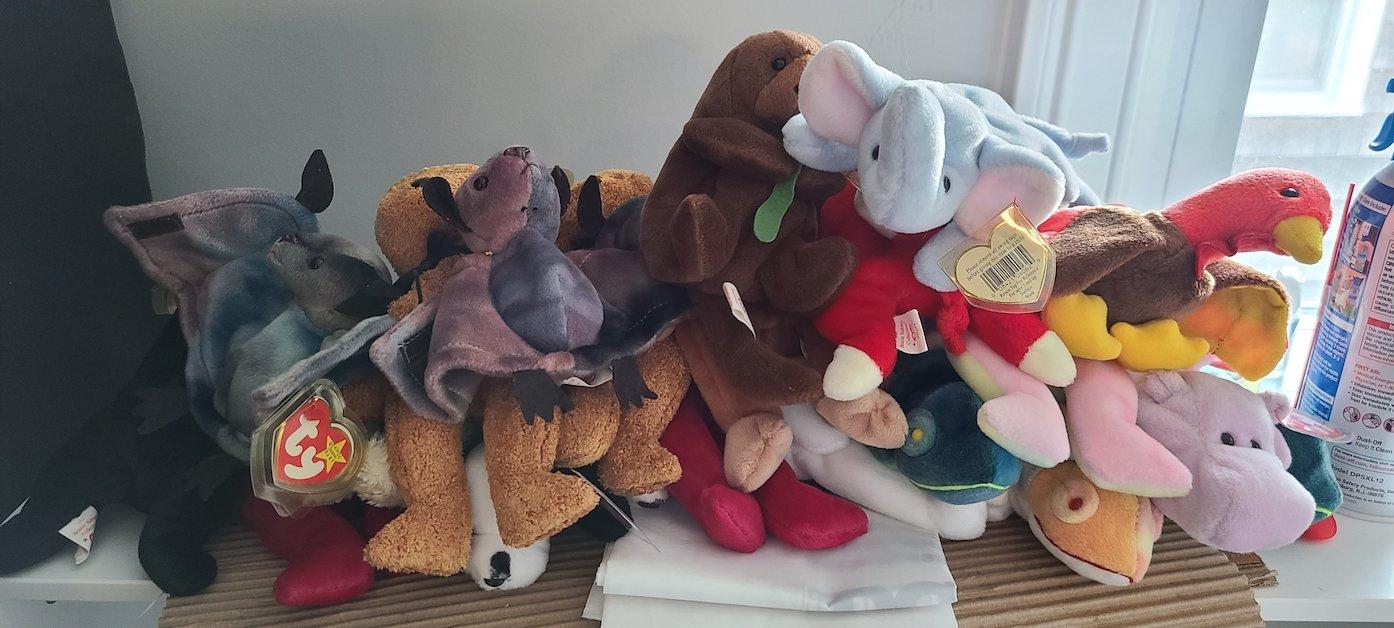 Sorry, but if you're hanging onto a purple Princess Diana bear, thinking it will bring you a pretty penny, think again. At the most, you may make about $160, according to TyCollector.com.
"I'm here to destroy your dreams right now and let you know that 95 percent of Beanie Babies are virtually worthless," said vlogger Chris of the Thrift Shop Hustler YouTube channel. "If you're thinking about reselling them, you aren't going to get a bunch of money."
Article continues below advertisement
The only Beanie Babies that may be worth some money are those created in the first three generations of the popular toys, which came out in 1993.
There were nine original beanbag-like animals are: Legs the Frog, Squealer the Pig, Spot the Dog, Flash the Dolphin, Splash the Whale, Chocolate the Moose, Patti the Platypus, Brownie the Bear, and Pinchers the Lobster.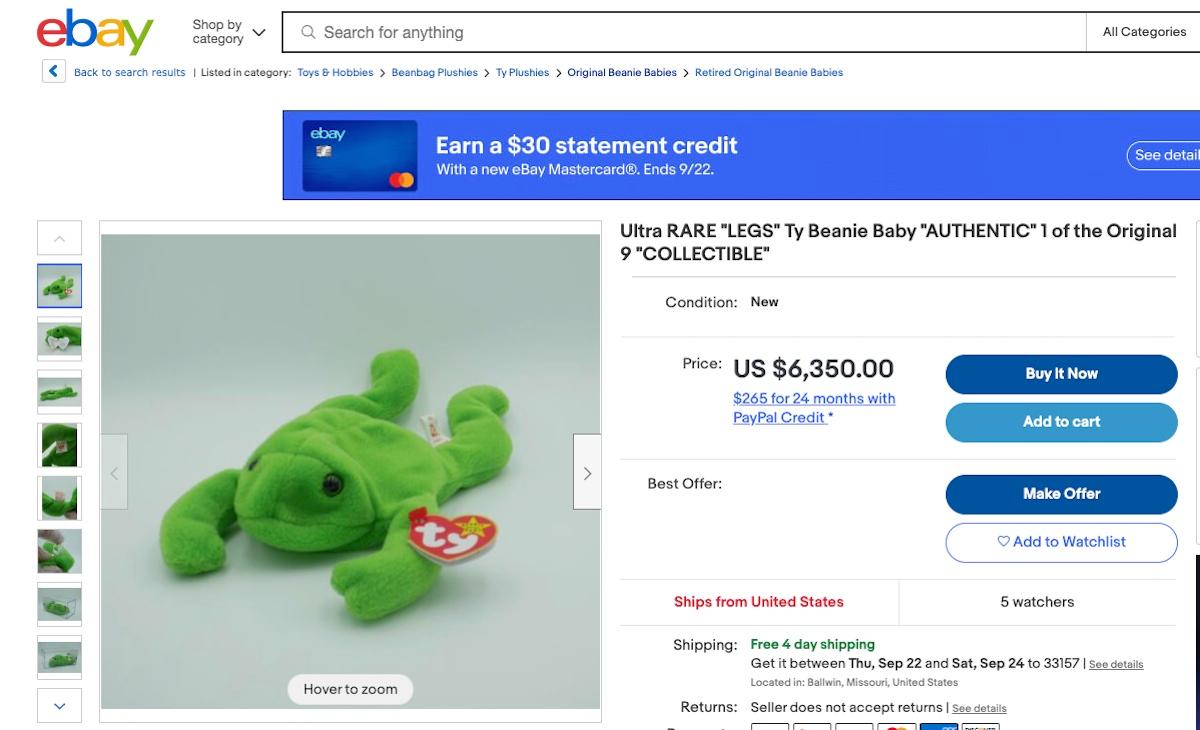 Article continues below advertisement
Article continues below advertisement
You can look at its tag to identify if the Beanie Baby you are holding onto is a 1st, 2nd, or 3rd generation toy. Tush tags, the small fabric tags attached to the Beanie Baby's tushie, are black and white on first-generation toys, and red on 2nd generation toys and beyond.
"Know your tags. If it has anything else on it other than the Ty logo, you don't want nothing to do with it," Chris the Thrift Shop Hustler explained on YouTube.
Are Beanie Babies worth anything without the tag?
If your Beanie Baby doesn't have its "Ty" tag still attached, you'll be more disappointed to learn that it's worth even less than it would be if it had the tag. According to the website DustyCollectibles.com, Beanie Babies without tags are worth 30 percent less than those that still have their tags.
Article continues below advertisement
Article continues below advertisement
What about the McDonald's Teenie Beanies?
In 1997, McDonald's partnered with Beanie Baby maker Ty Inc. to include a smaller version of the toys, called Teenie Beanies, in their Happy Meals.
The Teenie Beanies craze took over the country, with thousands of people lining up at McDonald's drive-throughs to get their hands on the newest Teenie Beanies.
Article continues below advertisement
Some people even fought over the little toys, which seemed to be more popular with adults who thought they'd become valuable someday.
However, today Teenie Beanies are worth even less than the Happy Meal they came in. "There are no McDonald's beanies that are worth anything," the Thrift Shop Hustler shared.
However, there are a few rare Beanie Babies that could be worth thousands.
There are, of course, a few exceptions.
Beanie Babies that had errors on their tags when they were first produced may be worth something. For example, if you are holding onto a Nana the Monkey — which was released in 1995 but renamed Bongo a year later — it could be worth as much as $4,000, Parade reports.
So, if you have any old Beanie Babies lying around, it wouldn't hurt to take a look.