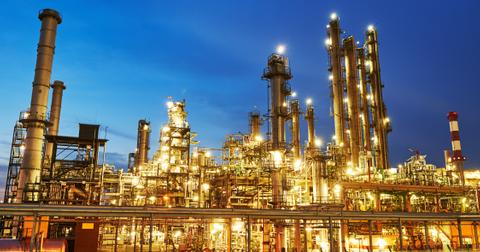 Best Oil Refining Stocks: MPC, VLO, PSX, HFC, PBF, and DK
By Maitali Ramkumar

Updated
Oil refining and marketing stocks have been on investors' radar due to their robust performance in 2019.
Leading crude oil and natural gas refinery stocks including Valero Energy (VLO) and Phillips 66 (PSX) have risen 29.0% and 29.7%, respectively, YTD (year-to-date). Also, Delek US Holdings' (DK) stock price has increased 8.0% this year.
However, Marathon Petroleum (MPC) and HollyFrontier's (HFC) stock prices have risen 3.4% and 2.6%, respectively. PBF Energy's (PBF) stock price has fallen 6.0% YTD.
Now, refiners look forward to changing refining dynamics due to IMO 2020. In such a scenario, we'll have to see how refining stocks are positioned.
Oil refining stocks' growth potential
Most oil refiners' earnings weakened in the first nine months of 2020. So, analysts expect their earnings to fall in 2019. In 2020, analysts expect a sharp bounce-back in profits.
In 2019, analysts expect most refiners' earnings to fall 21%–31%. Marathon Petroleum and Valero Energy are near the higher end of the spectrum while Phillips 66, HollyFrontier, and Delek US Holdings are near the lower end. However, analysts expect PBF's earnings to fall the most, by 69%, in 2019.
Refining companies' profits are estimated to be lower due to the weak refining crack and oil spreads. Refining is a seasonal business that's usually strong in the second and third quarters. However, this year, the general level of cracks and spreads has been weaker compared to the previous year.
Refiners' earnings to bounce back in 2020
Analysts expect refiners' earnings to rise in 2020. The bounce back in earnings will likely vary widely. While analysts expect refiners like HollyFrontier's earnings to increase 4% in 2020, they expect PBF's earnings to rise 377%. Also, analysts expect Marathon Petroleum and Valero Energy's earnings to grow more than 50% in 2020. Phillips 66's profits will likely increase 20%. However, analysts expect Delek US Holdings' earnings to fall in 2020.
The rise in refining earnings in 2020 is due to widening cracks and oil spreads. The strength is mainly attributable to the implementation of IMO's new regulation. According to the new rule, ships will have to use fuels with a maximum sulfur content of 0.5%. Refiners that can produce low-level sulfur fuels will face massive demand from the shipping industry.
Refiners need more crude oil refining and processing capabilities to produce these fuels. Most refiners are well placed to cater to this evolving industry scenario. However, the varying capabilities will lead to a disparity between the oil companies' refining margins. Read Delek, HollyFrontier, and PBF: Refining Stocks with Upside? to learn more.
In the latest conference call, Gary Simmons, Valero's senior vice president of supply, international operations, and system optimization, said, "We're certainly seeing a lot of indications in the market of IMO starting to impact it. I mean, the things I would point to, the diesel curve is just continued to shift higher, the closer we get to the January 2020 date. On the gasoline market, we're seeing indications as well."
Outlook in 2019 and 2020
So, analyzing the earnings growth estimate for 2019 and 2020, analysts expect PBF Energy's earnings to rise 46%—the highest among its peers. They expect Valero Energy and Marathon Petroleum's earnings to increase 34% and 20%, respectively, in these two years. However, during the same period, analysts expect Phillips 66, HollyFrontier, and Delek US Holdings' earnings to fall 8%, 18%, and 32%, respectively.
So, PBF Energy, Valero Energy, and Marathon Petroleum look good on the earnings outlook.
Oil refining stocks' dividend yield
These six refiners' average dividend yield is 3.5%. Notably, PBF Energy and Valero Energy have an above-average dividend yield at 3.8% and 3.7%, respectively. All of the remaining refiners have a below-average yield. While Marathon Petroleum and Delek US Holdings have dividend yields at 3.4% and 3.5%, respectively, Phillips 66 and HollyFrontier's yields are 3.1% and 2.7%.
Most of the refiners also buy back shares to raise shareholders' returns. Valero Energy bought back $1.1 billion worth of shares in the first nine months of 2019. During the same period, Phillips 66 and Marathon Petroleum bought back $1.2 billion and $1.9 billion worth of shares.
Valuations
On valuations, only PBF Energy and Marathon Petroleum stocks trade below the peer average. The six refining stocks' average forward PE ratio is 9.3x. PBF Energy and Marathon Petroleum trade at forward PE ratios of 7.2x and 8.7x, respectively.
However, HollyFrontier and Delek US Holdings trade at forward PE ratios of 10.0x and 10.5x, which are above the average. Valero Energy and Phillips 66 trade at forward PE ratios of 10.4x and 10.8x, respectively.
Overall
PBF Energy appears to be in the best position with the highest growth in earnings, above-average dividend yield, and below-average valuation. After PBF Energy, Valero Energy stock also looks good with high growth and a better dividend yield. However, the stock trades at a slightly high valuation.
Marathon Petroleum will likely post positive earnings growth. However, the company's below-average dividend yield and its above-average valuation seem to be making it weak.
Finally, Phillips 66, HollyFrontier, and Delek US Holdings look dull due to the expected fall in earnings in 2019 and 2020, the above-average valuation, and below-average dividend yields.