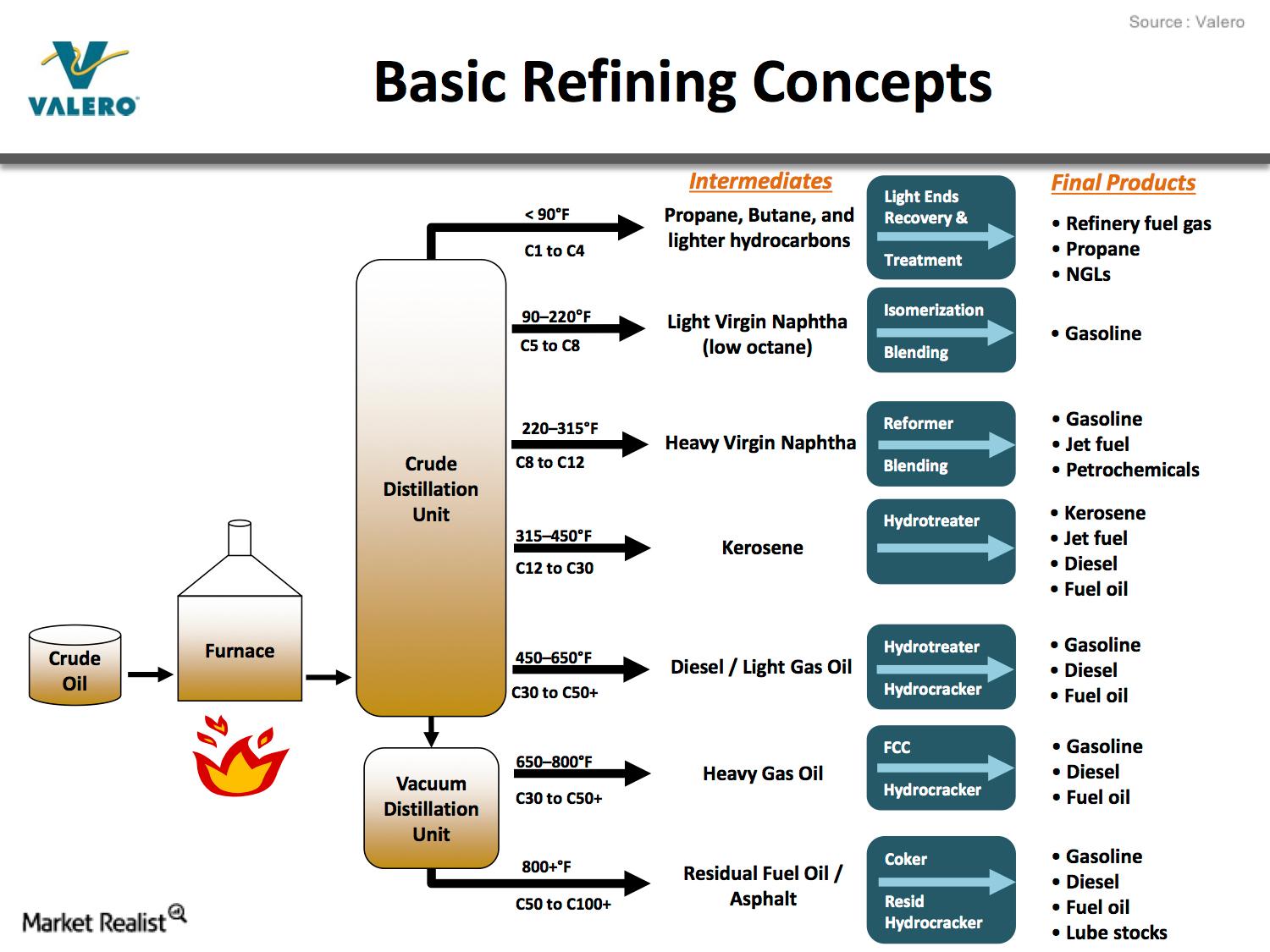 What Is Crude Oil Refining and How Does It Work?
Oil refining process
The oil refining process is the central activity of downstream oil and gas companies. In the refining process, crude oil is refined to produce different petroleum products like gasoline, diesel, and jet fuel. For the conversion to take place, crude oil is heated and introduced into the distillation tower. In the tower, oil is broken down into various petroleum products.
Article continues below advertisement
Distillation units and fractions
The EIA (Energy Information Administration) explains the breakdown this way: "Inside the distillation units, the liquids and vapors separate into petroleum components called fractions according to their weight and boiling point.
Heavy fractions are on the bottom, and light fractions are on the top. The lightest fractions, including gasoline and LPG (liquid petroleum gas), vaporize and rise to the top of the distillation tower, where they condense back to liquids.
Article continues below advertisement
Medium weight liquids, including kerosene and diesel oil distillates, stay in the middle of the distillation tower. Heavier liquids, called gas oils, separate lower down in the distillation tower, while the heaviest fractions with the highest boiling points settle at the bottom of the tower."
After the distillation process, the products are further refined through various processes like cracking, reforming, or alkylation. Cracking, as the name suggests, cracks longer hydrocarbon chains to smaller ones by using heat and pressure. Reforming uses a catalyst and alkylation re-arranges molecules to produce high value lighter products. The higher the level of refining, more complex the refinery.
Article continues below advertisement
Of Marathon Petroleum's (MPC) seven refineries, the Galveston Bay refinery in Texas has the highest complexity of 13.5, as defined by the NCI (Nelson Complexity Index). The NCI average of MPC's seven refineries stand at 10.9. Similarly, Tesoro (TSO) and Valero Energy's (VLO) average NCI stands at 11.5 and 12, respectively. HollyFrontier's (HFC) average NCI stands at 12.2.
For exposure to refining sector stocks, investors can consider the Vanguard Energy ETF (VDE). VDE has ~8% exposure to the sector.
Article continues below advertisement
What to expect from this series
This series will provide you a complete overview of the refining industry as well as a quick snapshot of downstream sector stocks in the US. Specifically, we'll examine the effect of industry-wide parameters, such as demand and prices of refined products, on refiners' profitability.
We'll also discuss the impact of company-level parameters like utilization rates, refining complexity, and yields on refining margins and profitability. We'll look at how refining stocks correlate with cracks, as well as how changing premiums and discounts between distillate and gasoline cracks affect the interplay between refined product inventories and cracks.
We'll conclude the series by analyzing operating income models, returns on equity, and shareholder returns (dividend and share repurchases) of some major American refining companies. We'll also analyze major companies' valuations and analyst ratings.